Kung Pow! Enter the Fist
(2002)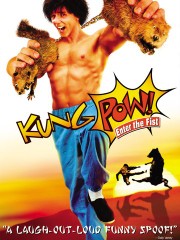 Tickets & Showtimes
Kung Pow! Enter the Fist Trailers & Photos
Movie Info
Writer, director, and star Steve Oedekerk lampoons the martial arts genre with this action spoof that digitally mixes new scenes with poorly dubbed footage from the vintage 1976 film Savage Killers. Oedekerk stars as "the Chosen One," a kung-fu prodigy even from the womb, who grows up to seek vengeance on the evil, legendary "Master Pain" (aka Betty), who murdered his parents. Along the way, he is aided in his quest by the kindly, wizened Master Tang as well as Whoa (Jennifer Tung), a karate queen with a cleavage problem. The Chosen One is also called upon to employ his unique fighting styles, including the "gopher," and faces not only Master Pain, but a gay henchman and the lethal lactation of a deadly, karate-chopping cow. Originally entitled "The Dubbed Action Movie," this broad parody saw its release delayed several times, finally reaching theaters two years after it was shot. Kung Pow! Enter the Fist co-stars Tad Horino and Philip Tan. ~ Karl Williams, Rovi
more
Cast
News & Interviews for Kung Pow! Enter the Fist
Critic Reviews for Kung Pow! Enter the Fist
Audience Reviews for Kung Pow! Enter the Fist
½
Really silly and kind of dumb, but the filmmaker's hearts were in the right place. It's just too bad that theiir skills are a little weak and evidence of ineptitude is obvious. They're not as bad as Ed Wood, but I think his films are a tad more entertaining. This wasn't real terrible, but I didn't laugh as much as they probably wanted me to.
Chris Weber
Super Reviewer
½
Kung Pow! Enter the Fist is a film you either get, or don't. It's incredibly stupid and simple, but it works. To view the trailer is to watch the worst parts of the movie, parts that should have been cut out. The kung-fu cow and the woman with one breast are really out of place and distract from Oedekerk's surreal genius of simply overdubbing an existing film. Technologically it's also impressive, inserting Oedekerk into an existing film seamlessly. Kung Pow also has some great characters which are all voiced by Oedekerk. Whether it's squeaky shoes or the ventriloquists, there's plenty here to love. Let's not forget the quoteability "THAT'S A LOT OF NUTS".
Kung Pow! Enter the Fist Quotes
Master Pain (Betty): Mmmm, memento
Master Pain (Betty): What do you get when you cross an owl and a bungee cord, my ass.
Master Pain (Betty): Swinging a chain, swinging a chain...
Master Pain (Betty): I have been called bad before. Many say, I do things things that are not, correct to do. I do not believe in such talk as this. I am nice man, with happy feelings, all of the time!
Discussion Forum
Discuss Kung Pow! Enter the Fist on our Movie forum!
News & Features