Lassie Come Home
(1943)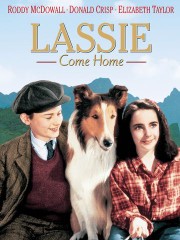 Lassie Come Home Trailers & Photos
Movie Info
Female dogs tend to shed while in heat; this is why all the collies who've played doggy heroine Lassie in the movies have actually been well-disguised males. A magnificent animal named Pal was the screen's first Lassie in 1943's Lassie Come Home. Set in Yorkshire during the first World War, the film gets under way when the poverty-stricken parents (Donald Crisp, Elsa Lanchester) of young Joe Carraclough (Roddy McDowall) are forced to sell his beloved Lassie. While her new master, the duke of Rudling (Nigel Bruce), is pleasant enough, Lassie prefers the company of Joe and repeatedly escapes. Even when cared for by the duke's affectionate granddaughter, Priscilla (Elizabeth Taylor), Lassie insists upon heading back to her original home. This time, however, the trip is much longer, and Lassie must depend upon the kindness of strangers, notably farmers Dally (Dame May Whitty) and Dan'l Fadden (Ben Webster) and handyman Rowlie (Edmund Gwenn). Based on the novel by Eric Knight (originally serialized in The Saturday Evening Post), Lassie Come Home was released quite some time after Knight's death. Like all the Lassie sequels turned out by MGM between 1943 and 1951, Lassie Come Home was lensed in Technicolor.
more
Cast
News & Interviews for Lassie Come Home
Critic Reviews for Lassie Come Home
Audience Reviews for Lassie Come Home
If you don't like this movie you better see the wizard about a heart.
Lassie come home 1943

Starts off in Edenbourow England.

They sold Lassie for money and could not afford money to pay for food for Lassie.

Lassie dug herself out first time and second time jumped over the fens.

Lassie to go to Scotland for a dog show.

Heinz the dog handler does not like Lassie.

They go to Northern Scotland very mountainous landscape.

At 4:00 P.M. Lassie would always want out for meeting for school.

Lassie encounters small traveling wagon trick show where small dog named Tuts does tricks like pick up different color rings or jumping through rings.

Two burglars have a fight and knock out and kill Tuts in the fight with clubs.


I think this film is better because it deals with loss and there is an evident risk where we see the consequences.

Lassie jumps out of a two story building and gets a limped foot when trying to escape the dog catcher.

Lassie is starving refuses to eat soup.

I feel like the story and characters I am invested in and people die that you care about so story is stronger.

The ending links and sets up to the next film Son of Lassie.
Lassie Come Home Quotes
Discussion Forum
Discuss Lassie Come Home on our Movie forum!
News & Features