The Last Man
(2002)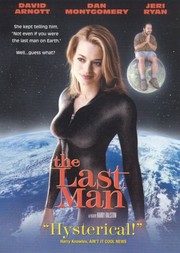 Movie Info
Somehow the entire population of the Earth has been obliterated, leaving the buildings standing and the preserved food intact. The environment seems to be OK, too. From the emptiness of the planet emerges Alan (David Arnott), a nebbishy anthropology graduate student who is coming to terms with his fate as the last man on Earth -- until he discovers Sarah (Jeri Ryan), a beautiful, intelligent woman who can't stand the idea that neurotic, portly Alan is the last man she'll ever be near. They make an encampment in a desert and begin their lives together -- him, delirious; her reluctant -- until they encounter Raphael (Dan Montgomery) hitchhiking along the road. Raphael, although a bit dim, is tall, handsome and fun-loving, and Alan finds that he has to change in order to compete for Sarah's affection, or spend his life without a woman. But nature is full of surprises.
more
News & Interviews for The Last Man
Critic Reviews for The Last Man
Audience Reviews for The Last Man
This movie was so great. Not because it was well made or anything. The acting was ok and the look wasn't horrible (not top notch or anything), but the story was outstanding.

This is about the last man on earth. He takes it well and begins to live the best he can until he meets the last woman on earth. So there it is, a match made in heaven, the only two people on earth who can do whatever they want. Paradise... until they find a second more appealing man. The first man all of a sudden is out of he picture. It's a horribly depressing thought in a comedic movie.
Discussion Forum
Discuss The Last Man on our Movie forum!
News & Features