Lawrence of Arabia
(1962)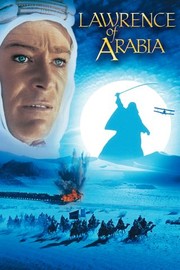 TOMATOMETER
AUDIENCE SCORE
Critic Consensus: The epic of all epics, Lawrence of Arabia cements director David Lean's status in the filmmaking pantheon with nearly four hours of grand scope, brilliant performances, and beautiful cinematography.
Tickets & Showtimes
Lawrence of Arabia Trailers & Photos
Movie Info
This sweeping, highly literate historical epic covers the Allies' mideastern campaign during World War I as seen through the eyes of the enigmatic T. E. Lawrence (Peter O'Toole, in the role that made him a star). After a prologue showing us Lawrence's ultimate fate, we flash back to Cairo in 1917. A bored general staffer, Lawrence talks his way into a transfer to Arabia. Once in the desert, he befriends Sherif Ali Ben El Kharish (Omar Sharif, making one of the most spectacular entrances in movie history) and draws up plans to aid the Arabs in their rebellion against the Turks. No one is ever able to discern Lawrence's motives in this matter: Prince Feisal (Alec Guinness) dismisses him as yet another "desert-loving Englishman," and his British superiors assume that he's either arrogant or mad. Using a combination of diplomacy and bribery, Lawrence unites the rival Arab factions of Feisal and Auda Abu Tayi (Anthony Quinn). After successfully completing his mission, Lawrence becomes an unwitting pawn of the Allies, as represented by Gen. Allenby (Jack Hawkins) and Dryden (Claude Rains), who decide to keep using Lawrence to secure Arab cooperation against the Imperial Powers. While on a spying mission to Deraa, Lawrence is captured and tortured by a sadistic Turkish Bey (Jose Ferrer). In the heat of the next battle, a wild-eyed Lawrence screams "No prisoners!" and fights more ruthlessly than ever. Screenwriters Robert Bolt and Michael Wilson used T. E. Lawrence's own self-published memoir The Seven Pillars of Wisdom as their principal source, although some of the characters are composites, and many of the "historical" incidents are of unconfirmed origin. Two years in the making (you can see O'Toole's weight fluctuate from scene to scene), the movie, lensed in Spain and Jordan, ended up costing a then-staggering $13 million and won seven Academy Awards, including Best Picture and Best Director. The 1962 Royal Premiere in London was virtually the last time that David Lean's director's cut was seen: 20 minutes were edited from the film's general release, and 15 more from the 1971 reissue. This abbreviated version was all that was available for public exhibition until a massive 1989 restoration, at 216 minutes that returned several of Lean's favorite scenes while removing others with which he had never been satisfied. ~ Hal Erickson, Rovi
more
Cast
News & Interviews for Lawrence of Arabia
Critic Reviews for Lawrence of Arabia
Audience Reviews for Lawrence of Arabia
An indisputable classic concerning an unruly British soldier (Peter O'Toole) tasked by the army to provide assistance to the Arabs in their battle against the Turks. This sweeping, nearly four-hour epic is definitely a long watch, but a rewarding one if you have the patience to see the complete arc of a fascinating, arresting character. O'Toole is the perfect man of the part, as he fully captures the emotions of a character in a "fish out of water" scenario. Aided by a strong supporting cast and a story that expertly captures the politics of the days of the WWI, this is a bonafide masterpiece. Sure, it is definitely overlong, but it is better that way, as it feels in some ways viewing the movie as a journey itself, which in turn feels fitting.
T.E. Lawrence binds Arab tribes in the West's battle against the Turks.
While I consider this film necessary viewing for anyone who considers him/herself a student of film, I can't say that it is unquestionably great. Yes, Peter O'Toole's performance is marvelous, and David Lean's direction, particularly the cinematography, is quite strong as he frames beautiful shots and often captures the mood of the environment.
However, at close to four hours, the film is extraordinarily long, and some of its length can be attributed to Lean's penchant for showing people walking great distances in order to carry out the scene. Rather than keep the camera focused on a character as he walks into the scene, it's rather simple to show the character approaching, cut away to an reaction shot, and then have the character present to begin the scene. It's a technique that's so often used we barely notice it any longer. It's true that Lean is trying to capture the vastness of the desert, but he does this in so many other parts of the film that I could see how the film's running time could be trimmed considerably.
More important is the film's relationship to race and politics. Edward Said writes eloquently about Lawrence in Culture and Imperialism arguing that Lawrence follows a tradition of colonialists who treat Arabs and Arabia as racially inferior. The film argues that Lawrence's relationship to these people is far more complex than Said claims. The Lawrence of the film recognizes his white privilege and is in conflict with his own identity. which makes a compelling conflict. If the film's relationship to race and colonization stopped there, then I wouldn't have a problem with it. After all, just because the film's thesis differs from Said's opinion of Lawrence doesn't mean it's a film to be rejected. But the casting is more problematic. Alec Guinness, a Brit, and Anthony Quinn, a Mexican, portray Arabs in - for lack of a better term - "brown face." The only Arab in the film with a major speaking role in Omar Sharif (who coincidentally harassed Edward Said during their school days). While I balk at calling Lawrence of Arabia a racist film, I think that it's fair to say that the casting and the inability of the film to fully question the morality of Lawrence's behavior makes it racially problematic.
Overall, I think you should see this film because its scope and its technical proficiency are extraordinary, but it's not without its ambiguity and flaws.
Jim Hunter
Super Reviewer
Lawrence of Arabia Quotes
Gen. Murray: He had a minor role on my staff in Cairo.
Gen. Allenby: You're the most extraordinary man I've ever met. You will be a household word when you will have to go to The War Museum to hear about me.
T.E. Lawrence: I had to execute someone, and there is something about it I didn't like.
Gen. Allenby: I see.
T.E. Lawrence: No, some thing else.
Gen. Allenby: Well, um.
T.E. Lawrence: No, something else--I enjoyed it.
T.E. Lawrence: I could pass for an Arab if someone would lend me some dirty clothes.
Discussion Forum
Discuss Lawrence of Arabia on our Movie forum!
News & Features