Les Croix de bois (Wooden Crosses)
(1932)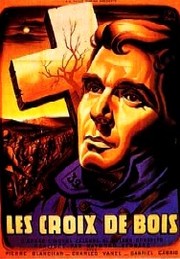 AUDIENCE SCORE
Critic Consensus: No consensus yet.
Movie Info
Les Croix de Bois (Wooden Crosses) may well be the most powerful anti-war film ever made; certainly it is the grimmest and most uncompromising. Starting with an impressionistic shot of a gloomy hillside studded with white grave markings, the film delineates the hopelessness and horror of war in such explicit terms that at times it's nearly impossible to watch. Set during WWI, the story concentrates on a handful of French draftees, including an idealistic student named Demachy (Pierre Blanchard). Marching off to war with joyful patriotic fervor, the men are quickly disillusioned by the appalling realities of total warfare. When they aren't enduring ten nonstop days of enemy bombardment, the soldiers must sweat out the horrible realization that their trenches are being mined from underground. Nor are they given any relief during those rare lulls in fighting. At one point, the men are yanked away from a much-needed furlough to march in a victory parade for the entertainment of their callous, fat-cat superior officers. One by one, the men are killed off, until only Demachy remains -- but, tragically, not for long. Such was the impact of Les Croix de Bois, that, when it was shown on French television in the 1970s, a WWI survivor who watched the film for the first time was so overwhelmed by despair that he committed suicide. Generous portions of the film's battle sequences were later incorporated in the 1934 John Ford film The World Moves On and the 1936 Howard Hawks production The Road to Glory. ~ Hal Erickson, Rovi
more
Cast
News & Interviews for Les Croix de bois (Wooden Crosses)
Critic Reviews for Les Croix de bois (Wooden Crosses)
All Critics (1) | Fresh (1) | Rotten (0)
Countless films declare 'war is hell', but few do so with as much bitter veracity as Wooden Crosses.
Audience Reviews for Les Croix de bois (Wooden Crosses)
½
Director Raymond Bernard gives us an unromanticized view of trench warfare in 1932's Wooden Crosses, a film of amazing visual quality. It's a visual quality that borrows heavily from 1930's "All Quiet on the Western Front". The story as well, is heavily influenced by the story of All Quiet on the Western Front, only telling it from the point of view of french soldiers as opposed to german. But unlike the earlier film, I think it's misrepresenting Wooden Crosses to call it "anti-war". The fact that it shows "war is hell" and makes it clear that war isn't fun isn't any more anti-war than any other war film that's ever been made. It's a fairly good war movie however, and has great production values.
Plays like kind of a "greatest hits of war movie clichés". One of my least favorites is the one where the rookie gets introduced to the guys, and of course each has their own quirk/trait that they're identified with. Like "this is Joe, the loudmouth of the company" or "and this guy here is Frank, he's meaner than he looks". However, Bernard's filmmaking style is impressive, it appears to be about 15-20 years ahead of its time. He manages some very poetic moments.
Discussion Forum
Discuss Les Croix de bois (Wooden Crosses) on our Movie forum!
News & Features