Leviathan
(1989)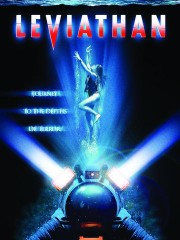 Tickets & Showtimes
Leviathan Trailers & Photos
Movie Info
In George Cosmatos' sci-fi thriller, a team of oceanographers discovers a sunken Soviet submarine housing the murderous product of a genetic experiment gone horribly wrong.
more
Cast
News & Interviews for Leviathan
Critic Reviews for Leviathan
Audience Reviews for Leviathan
Leviathan has gotten a reputation of being a rip-off of Alien, thus many critics of this enjoyable B Movie have been unfavourable due to its similarities to Ridley Scott's classic film. Leviathan is an action packed ride that delivers a story very similar to Alien, except it's underwater. The film was directed by George P. Cosmatos who also directed the sequel to Rambo, Rambo: First Blood Part 2. Cosmatos has a good eye of what makes an effective action film, thus he was able to create a fun, and effective Sci Fi action horror film with this film; despite him using Alien as a template for his story. I personally think that Leviathan doesn't deserve all the flack it has received. Despite the fact its derivative from other films, this is still an entertaining film to watch. Stan Winston who created some stellar effects in other films such as Aliens and The Terminator created the effects for this film. However, this time around his effects are less spectacular. Nonetheless, the film is fun, entertaining and in the end a pure popcorn flick from start to finish. Although the film is nothing new, it's still a pleasant film to watch. I think that the film is better than what most critics have claimed it to be. The fact is, it's a clear rip-off of Alien, and because of it, people are quick to dismiss it. However, if you're looking for a mindless monster flick with a familiar formula, then give this film a shot.
In a mining corporation "Tri-Oceanic", the company hires civilians to work under the sea for 90 working days. The man in charge is Steven Beck (Peter Weller), who does his best handling his crew members (Amanda Pays, Ernie Hudson, Hector Elizondo, Michael Carmine, Lisa Eilbacher and Daniel Stern) and the doctor in staff (Richard Crenna). Like any other working day under the sea, two of the crew members has discovers an sinked Russian ship named "Leviathan". When they looked around, one of them has discover an safe. All they found inside is a pictures, a vodka bottle, a video tape and a flask of vodka. Which the crew member found in the safe has taking it without his boss seeing it. When he starts drinking it, along another crew member drinking it secretly. Then they both gets sick, one of them died quietly and the other committed suicide. The doctor, who knows the Russian language well. Along with Beck, they watched the video and they discover the Russian crew are actually scientists and they were playing god. Now these two dead crew members are having generic alteration and slowly turning into the unknown. When the crew tries to get rid of these bodies and putting it out to sea. Parts of the creature got inside the vessel. Now starts killing the crew, one by one. While Beck's boss above the sea (Meg Foster) warms them, they can't escape. Since there's an major storm coming. Now the crew has to do anything to stay alive.

Directed by George P. Cosmatos (Rambo:First Blood Part 2, Cobra, Tombstone) made an entertaining, familiar Sci-Fi/Adventure/Horror/Thriller. They were two Science Fictions films about under the sea back in 1989. One was Sean S. Cunningham's cheap looking but horrible "Deep Star Six" and James Cameron's underrated "The Abyss". Since this feature and the two others were major box office disappointments. The premise isn't really nothing new but director Cosmatos has an good cast at work here, the production designs by Rob Cobb (Conan the Barbarian, The Last Starfighter), imaginative creature work by Stan Winston studios, good looking cinematography by Alex Thomson (Alien 3, Death Line, Legend) and fine music score by Jerry Goldsmith (Gremlins 1 & 2, The Omen, Total Recall).

"Levithan", it's far from a perfect movie. The screenplay by David Webb Peoples (Blade Runner, Twelve Monkeys, Unforgiven) and Jeb Staurt (Another 48 Hrs, Die Hard, The Fugitive) does have its problems at times but that hardly matters, the picture has a refreshing sense of humor and there's few memorable gory moments of suspense. This film of went on to be a cult favorite. Fans of Science-Fiction/Horror Genre will certainly like this one.
David Ladd
Super Reviewer
Leviathan Quotes
Elizabeth 'Willie' Williams: Oh by the way, how did you know they'd get into the Vodka?
Steven Beck: Hell it's what I would've done. [smiles]
Elizabeth 'Willie' Williams: [laughs] You know maybe you're more one of us than you think. [smiles and jogs off]
Discussion Forum
Discuss Leviathan on our Movie forum!
News & Features