Little Odessa
(1995)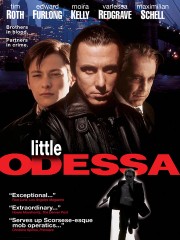 Tickets & Showtimes
Little Odessa Trailers & Photos
Movie Info
A somber portrait of organized crime and family trauma, Little Odessa centers on the trouble caused when hit man Joshua Shapira (Tim Roth) returns to his old neighborhood of Brighton Beach, Brooklyn. A hired killer for the Russian Mafia, Joshua is given an assignment in his hometown, where he renews contact with his younger brother Reuben (Edward Furlong) and an old flame (Moira Kelly). But others do not welcome Joshua's return, particularly his harsh, estranged father (Maximillian Schell), who had disowned Joshua years before and currently attempts to keep him from visiting his seriously ill mother (Vanessa Redgrave). The pressure of these family crises combine with Joshua's deepening involvement in the local crime scene, ultimately triggering a bloody confrontation. First-time director James Gray creates a solemn, oppressive atmosphere that emphasizes the already grim nature of his story. The slow pace and familiar crime narrative were attacked by many viewers, contributing to a mixed critical reaction, but Little Odessa nevertheless won admiration for Gray's visual sense and the skilled performance by Roth in the unsympathetic lead role.
more
Cast
News & Interviews for Little Odessa
Critic Reviews for Little Odessa
Audience Reviews for Little Odessa
½
Billed as another Goodfellas, Little Odessa is the story of a mafia hitman returning home to do a job, as well as seeing the poor immigrant family he left behind. The story is great, the movie is not. Tim Roth is fantastic as the disowned, disgraced, murderous son. Roth always gives a very strong performance and does so again here. Edward Furlong, one of my favorites, unfortunately does not do as well. I've seen him in enough things to know, it's not his fault, it's the writing. This film is so dark and painfully slow that I barely made it through. Very little is explained and the dialogue is laughable, even at times non-existent. There are huge plot holes to go along with an ending that makes little sense. The writer was trying to tell his story more through imagery and symbolism in a genre that is based on action. You can't pull off something like this without explaining more of the story and using it to move things along. It's not the worst film I've ever seen, but to be honest, I was bored from start to finish.
½
Never quite reaching its' full potential, Little Odessa still stands as a testament as to the underrated abilities of Tim Roth, while also offering a dark, more realistic look into the mob world than most films.
Discussion Forum
Discuss Little Odessa on our Movie forum!
News & Features