Live Animals
(2008)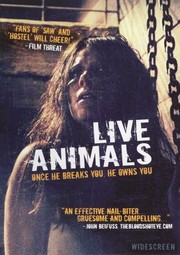 AUDIENCE SCORE
Critic Consensus: No consensus yet.
Tickets & Showtimes
Movie Info
Live Animals is a grisly indie-horror film that follows in the torture-porn tradition of Hostel and Wolf Creek. When a group of college students go partying in the woods, they find themselves targeted by a sadistic hunter (John Still, Black Snake Moan) who traffics in selling his human victims to the white-slave trade.
more
Sixteenth Section Pictures
Cast
News & Interviews for Live Animals
Critic Reviews for Live Animals
All Critics (1) | Fresh (1) | Rotten (0)
No doubt a metaphor for the handling and abuse of wild animals, or a riff on human trafficking, director Jeremy Benson has made a horror film that will be PETA approved. This blood-soaked saga is one of the better entries in the sagging and tarred dramati
Audience Reviews for Live Animals
Dull story that only torture-lovers might get a kick from. The characters aren't explained very well. The gore is alright, but the film doesn't get real interesting until the end, which leaves off being rather unsatisfying.
Just another, twisted, low-budget, Saw-wannabe that isn't even good.

PLOT:A group of teens go out partying at the lake and are suddenly ambushed and tranquelized in the night. When they wake up, they find themselves in a stable chained to the wall. As it turns out, an evil livestock baron (John Still) has captured them and is planning on selling them in the human-trafficing business to the white trade, like cattle on a farm. It's an interesting horror plot executed horribly.

ACTING:The acting in here was purely mediocre. I could hardly believe anyone's screams or terror. The only actors that I believe did a pretty good job are John Still as the livestock baron and Christian Walker as the main guy character. No, names do not seem to matter that much in here.

SCORE:The score was mainly to set the mood, but it was more dramatic, so it wasn't terrible. I liked it a little bit.

EFFECTS:They could have paid ME to use better effects than they did in here. Each bit of blood and gore was cheap and over-the-top and NOT in a good way. They made a simple cut look like a rotten burn. The low-budget feel in here is VERY easy to see..

CAMERAWORK:I have two things to say about the camerawork, and they're a bit more constructive. They got some good shots and angles in here, but the camera's own quality was so low everything looked digital and lagged. If you're going to be artistic and attempt to capture some good angles, at least use a camera fit for the job.

OTHER CONTENT:This low-budget, indie horror is just another "Saw" mock-up with a different plot to make it seem new. There's hardly anything good about this movie except a couple performances and the plot idea. Besides all I've named, it's also pointless, has no character development whatsoever, steps over the line of horror by killing off a young child, and has just stupidly cheesy twists. This is definitely just a regular, wannabe indie movie.

OVERALL,a sucky indie horror with a interesting but horribly-executed plot, mainly mediocre acting, dramatic score, cheaply overdone effects, good shots yet bad camera quality, pointless violence, no character development, a step too far over the line of horror, and stupid twists.
Kendall Irwin
Discussion Forum
Discuss Live Animals on our Movie forum!
News & Features