Love And Rage
(1998)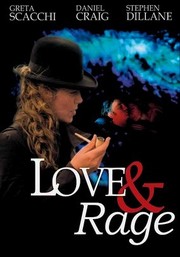 AUDIENCE SCORE
Critic Consensus: No consensus yet.
Love And Rage Trailers & Photos
Watch it now
Cast
News & Interviews for Love And Rage
Critic Reviews for Love And Rage
All Critics (2) | Fresh (1) | Rotten (1) | DVD (1)
Craig is terrific in a flamboyant performance as the gruffly charming but scheming Irish larrikin, James

A plodding narrative and anodyne script don't help, but the main problem seems to be in the characterisation of the most important character in the whole piece.
RTE Interactive (Ireland)
Audience Reviews for Love And Rage
Buffy Nelson
½
I was shocked to discover the gothic psychosexual romance, "Love and Rage" is a based on true events. Beautifully filmed in the rugged splendors of rural Ireland this film begins like a true romance novel, independent willful woman ahead of her time falls in love with wild rogue of a lower social level. It seems very Thomas Hardy full of repressed longing and sudden volcanic passions set amidst a storm tortured sea coast, mossy crags and a gloriously foreboding manor house. Buy the end the film turns from this formula melodrama into something truly evil and disturbing.
Greta Scacchi is perfectly cast in her roll of English landlord Agnes MacDonnell. With her careworn beauty she carries a grace and command throughout the film. At first regal and above those Irish that surround her the fall she takes upon meeting James Lynchehaun is spectacular in its bravery as and actress and harrowing in her portail of the ultimate price she pays for her passions.
Daniel Craig is mesmerizing in creating the madness and seductive sensuality of Lynchehaun. His dark twist on a classic romantic ideal is riveting to watch as he slithers from classic romantic bad boy hero into truly insane stalker. "Love And Rage" strange and hypnotic as it is becomes another feather in the cap for this fine actor's repertoire. As the story unfolded I found myself hoping against hope that the early eerie flashes of his instability were only genre quirks in the Heathcliff vein. Alas they were Hell's preternatural lightning of the madness to come. Brilliantly Craig grabbed my imagination and drug me willingly along the delusionary ride to the films final superbly bizarre and satisfying end.
Michael Smith
Discussion Forum
Discuss Love And Rage on our Movie forum!
News & Features