Love Songs
(2008)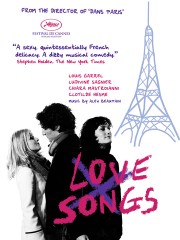 Love Songs Trailers & Photos
Movie Info
Though Love Songs (aka Les Chansons d'Amour) is not a film operetta per se, director Christophe Honoré and composer/lyricist/vocalist Alex Beaupain use that film to pay homage to the French movie musical as conceived by Jacques Demy in his classic Les Parapluies de Cherbourg (1967). The Honoré film concerns a series of hopelessly romantic Parisian characters who are unable to convey their feelings to one another in everyday situations, and who thus use musical numbers as outlets -- as vehicles of emotional expression. Beaupain composed the score; a number of the songs that are included appeared on one of his solo albums. The individual stories covered in the film tell age-worn tales as old as time: the loss of love, the discovery of new love, the impossibility of mutual love. The film stars Louis Garrel, Ludivine Sagnier, Chiara Mastroianni, Clotilde Hesme, Grégoire Leprince-Ringuet, Brigitte Roüan, Jean-Marie Winling, and Yannick Renier.
more
Watch it now
Cast
News & Interviews for Love Songs
Critic Reviews for Love Songs
Audience Reviews for Love Songs
After the almost unbearable first part(the departure) it follows the story & its characters in a more convincing & engaging way but not enough to save the entire thing from the abyss
½
[font=Garamond][size=3]"Les Chansons d'Amour" (Love Songs) is somewhat unique in that it's a musical, and it's a celebration of bisexuality. Also for a change, male bisexuality is celebrated as much as female. In fact the film's richest, longest and most loving sex scene is between two male characters. But other than that, it's pretty much what you'd expect from a Parisian film.[/size][/font]

[font=Garamond][size=3][img]http://intimedia.kaywa.com/files/images/2007/5/480/mob358_1180030480.jpg[/img][/size][/font]

[font=Garamond][size=3]Everyone is wrapped up in slightly crazy love affairs melding love, antagonism, jealousy, and a million other things in a mysterious knot, and moments of passion are of course transcendent. We are in Paris after all. The characters say horrible things to each other and then make love with abandon the following night. I honestly don't understand how such an intelligent people as the French could continue to be fascinated by codependent cliches about love. But there it is. It's truly one of their national obsessions. Americans have their mysterious fascination with violence; the French have their navel-gazing obsession with romance.[/size][/font]

[font=Garamond][size=3][img]http://www.blogut.ca/wp-content/uploads/2007/09/705301726581386.jpg[/img][/size][/font]

[font=Garamond][size=3]Of course the characters also read serious literature, such as Marcel Proust. How could a French movie not include a reference to literature? Despite the cliches, "Chansons" does have an interesting undercurrent of melancholy that is to some degree distinctive. This includes tremendous grief, as one of the leading characters dies. Yet it's not played as a weepie.[/size][/font]

[font=Garamond][size=3]We watch the characters deal with both love and grief, but still there was a familiar quality to it all. It's ultimately not a very daring film, despite the music, the bisexuality, and the untimely death. With a more radical director, this could have turned into something really significant. But it wants to be too likable and commercial. I'm sure it was a gigantic hit in France. French commercial filmmakers are masters of making a film seem just a bit artistic, but not so much that it would intimidate the Parisian masses.[/size][/font]

[font=Garamond][size=3][img]http://medias.lemonde.fr/mmpub/edt/ill/2007/05/19/h_3_ill_912219_cannes-chansonsamour.jpg[/img][/size][/font]

[font=Garamond][size=3]But how often have you seen a film where the characters suddenly start singing in the middle of a dramatic scene? At times that really is lovely. The only film that compares is Woody Allen's "Everyone Says I Love You," which came out about 10 years ago and was partly filmed in Paris. "Chansons" has no production numbers; that is, there is no dancing. And the music is not intrusive. There's no show-stopping number. The actors will be saying their lines in the normal way, and then just start singing with soft musical accompaniment on the soundtrack. [/size][/font]

[font=Garamond][size=3]The songs all seem to have been written just for the film. There are no covers of famous songs, thank heavens. All the songs are gentle, a little whimsical, and easy to listen to. All the actors appear to be doing their own singing as well, which was quite nice. There are no killer voices. It's all meant to express something a character is feeling, not demonstrate the prowess of a performer's skill.[/size][/font]

[font=Garamond][size=3]I do have to mention the leading character and the actor who plays him. I have been reading about this young actor, [b]Louis Garrel[/b], who is becoming something of a muse for writer/director [b]Christophe Honore[/b]. Most notably, the two made "Ma Mere" together (which I haven't seen) and now "Chansons." [/size][/font]

[font=Garamond][size=3]I do think there's a bit of excessive hype around this actor. He's certainly no Marlon Brando or Sean Penn. But there is perhaps at least some Heath Ledger or Ryan Gosling in him. Early in the film I found Garrel's performance to be a crass embodiment of French stereotypes. But gradually something grew on me. By the end, when the character starts surmounting his grief and falling in love again, I really got taken up by it. I felt myself falling in love along with him. [/size][/font]

[font=Garamond][size=3]At the start of the film the character is in love with a girl. At the end he's in love with a boy. But the gender aspect is irrelevant. The point is that he's falling in love. He experiences the typical homophobia that any young man feels when he falls in love with a male for the first time. But ultimately the gender is irrelevant. This character is wise and courageous enough to surmount the homophobia and simply feel the love. Garrel is strong and courageous enough as an actor to bring this to life. G[/size][/font][font=Garamond][size=3]arrel is one of the young actors on the world stage to watch.[/size][/font]

[font=Garamond][size=3]The female actors aren't really given that much to work with. Honore makes the male character the center of the story. But of all the (many) women in the film, I'd say the most significant performance comes from[b] Ludivine Sagnier[/b]. She's worked a tremendous amount in France, but this is the first time I'm seeing her. I'll be watching her in the future, in addition to Garrel.[/size][/font]
William Dunmyer
Super Reviewer
Discussion Forum
Discuss Love Songs on our Movie forum!
News & Features