MacArthur Park
(2001)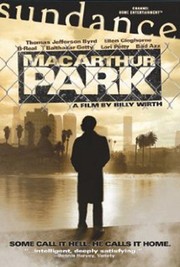 Tickets & Showtimes
MacArthur Park Trailers & Photos
Movie Info
Playwright Tyrone Atkins lost a promising career in theater and film -- as well as his home, his belongings, and (for a time) his freedom -- when he became addicted to crack cocaine. After conquering his habit, Atkins used his experiences living on the streets as the basis for this story about a group of homeless addicts attempting to hold on to the last shreds of their dignity. Cody (Thomas Jefferson Byrd) was once a respected jazz musician, but after getting hooked on crack, Cody abandoned his wife and son and now lives in a makeshift hut in Los Angeles's MacArthur Park. Cody scrapes up enough money to feed his habit through petty crime and acting as a go-between for more privileged users willing to pay a premium to him rather than hunt down hard-nosed dealer Freddie (B-Real). Cody's friend Blackie (Miguel Nunez) gets along in much the same way, but he finds himself in hot water after he takes off with the money of downwardly mobile TV actor Steve (Balthazar Getty), who gave him a handful of cash to score drugs for him. Cody is forced to take a long look at his responsibilities when he's confronted by his son Terry (Brandon Adams), whom he hasn't seen in years; Cody also runs into Karen (Rachel Hunter), once a fellow addict, who wants him to know there is a way out of the cycle of addiction. MacArthur Park's supporting cast also includes Julie Delpy, Lori Petty, Ellen Cleghorne, David Faustino, Sticky Fingaz, and Sydney Tamia Poitier, while R&B star Macy Gray contributed to the soundtrack; the film was enthusiastically received in its screenings at the 2001 Sundance Film Festival.
more
Cast
News & Interviews for MacArthur Park
Critic Reviews for MacArthur Park
Audience Reviews for MacArthur Park
Steve Smith
MacArthur Park is a stunning and horrifyingly real look at individual's lost in their own drug-scoring world. The film is not for the faint at heart and is really very violent when considering the film is made to portray real life homeless drug addiction.
Most of the character's display enough amusing human emotions and relationships so the film isn;t a complete downer.
The dialogue has plenty of "well, once I get out of here" thoughts and you definately feel that is the true addict mentality.
Overall, very good movie without any frills that makes you cringe that there are so many lives lost in this manner.
Paul Burgis
½
[list][*]Thomas Jefferson Byrd (Main character Cody, I think is his name) gives a good portrayal of a trumpet player turned crack addict who lives in the park.[*]The movie shows the chaos of events and the lives of the inhabitants of the park in a realistic but not condescending way.[*]Byrd's character has to decide between the "going nowhere-forget about your family" path or the tough "realize that life and family are more important" path.[*]DON'T DO DRUGS! (... The More You Know...)[*]Somewhat entertaining.[*][b]Recommendation[/b]: Rent if you don't mind movies about drugs and violence.[*][b]Grade[/b]: B[/list]

*New Radicals
Casey Bruno
Discussion Forum
Discuss MacArthur Park on our Movie forum!
News & Features