Macunaíma (Jungle Freaks)
(1969)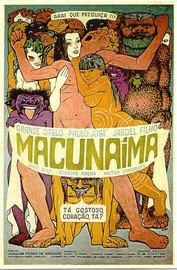 AUDIENCE SCORE
Critic Consensus: No consensus yet.
Macunaíma (Jungle Freaks) Trailers & Photos
Movie Info
Macunaíma is a black native from the forests of Brazil in this satirical comedy. When he bathes in a magic stream, he is turned into a white man. He goes into town and becomes the lover of a female revolutionary. She is killed by her own time bomb and her good-luck charm is found by an Italian. The man becomes a millionaire. Macunaíma goes to visit the lucky man and almost ends up on the menu. He returns to the jungle where he is abandoned by his followers and family for lying about food. The once-fortunate man sits alone as he tells his story to the only creature who will listen, a parrot. ~ Dan Pavlides, Rovi
more
News & Interviews for Macunaíma (Jungle Freaks)
Critic Reviews for Macunaíma (Jungle Freaks)
Audience Reviews for Macunaíma (Jungle Freaks)
Q: Where do girls have the kinkiest hair?
A: In Africa.

If Alejandro Jodorowsky and Robert Downey Sr. had lobotomies and made a movie together, it might be something like "Macunaima." This bizarre, surreal comedy has a cult following, but you probably won't enjoy it unless you get stoned first. Very stoned.

The story is an amalgam of Brazilian folk tales, and hence is mostly episodic. The title character is born in the jungle as a full-grown (if petite) black man with wildly unkempt hair. Seeing the actor behave like a bratty toddler is hard to take, though unrepentant racists might find some cheap snickers. Macunaima has various misadventures around the village (often sexual) and discovers that smoking the local herb turns him into an elegant prince. Then one day, he is showered with water from a mysterious underground spring and is permanently transformed into a white man. With wildly unkempt hair. Pauly Shore should license this script for a remake.

The setting soon moves to the city. Dopey Macunaima (now portrayed by a second actor) finds love with a sexy revolutionary and fathers a child (the actor who was the original Macunaima also plays the son). But he's also driven to retrieve a magic stone from a fearsome, sadistic "giant" who is actually just a normal-sized man strapped with an enormous fake belly. More strange events follow, including a flesh-splattered party around a piranha-loaded swimming pool and an encounter with a native dancer who can function as a human voodoo doll. Macunaima has an inexplicable fixation on ants too. Sure, why not?

This parable has a certain crude, low-budget charm, but you're better off sticking with "The Gods Must Be Crazy."
Discussion Forum
Discuss Macunaíma (Jungle Freaks) on our Movie forum!
News & Features