Magic Town
(1947)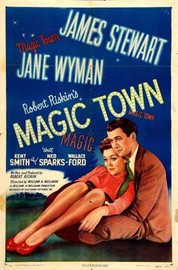 Movie Info
With Robert Riskin as screenwriter, director William Wellman proved in Magic Town that it was possible to make a Frank Capra-esque picture without Capra himself at the helm. James Stewart plays Rip Smith, a cynical pollster who comes across a small American town named Grandview, which represents a "perfect" balance of ethnic types, professions, political beliefs, and personal opinions (a parody of the then-current "Middletown" study). Smith publicizes this discovery, leading to a barrage of media attention and an onslaught of get-rich-quick entrepreneurs. Not surprisingly, all of this has an adverse effect on the heretofore "average" citizens of Grandview; it also seriously threatens Smith's blossoming romance with local girl Mary Peterman (Jane Wyman), who feels that her friends and neighbors are being used, exploited, and in some cases, corrupted. The satirical thrust of the film bogs down into sentimentality toward the end, but it's fun while it lasts. One of the colorful supporting characters is played by screwball-comedy favorite Donald Meek, who died during production, necessitating a number of hasty and not altogether successful rewrites. Though it pleases audiences today, Magic Town was a financial disappointment in 1947, prompting James Stewart to seek out "tougher" and more challenging roles to restore his box-office appeal.
more
Watch it now
Cast
News & Interviews for Magic Town
Critic Reviews for Magic Town
Audience Reviews for Magic Town
Statistics Doesn't Work That Way

I suppose there's no point in mentioning that this town that's supposedly a perfect microcosm of American society is never shown to have anything but native-born white people. While of course not all immigrants, blacks, Hispanics, or what have you think exactly alike, it is true that there are certain experiences which shape people's opinions that the residents of a single small town cannot possibly hope to encompass. Heck, in 1947, there was a small population of Civil War veterans--and former slaves--in the United States, and certainly a much larger population of their children. I'm somehow disinclined to believe the town in today's movie had any freed slaves or their children; if there were, we literally never saw them. It's true that we spend most of our time with the town's elite, but we never even see a single non-white face. If it's true that the population's opinions are identical to the nation at large as shown in polls, those are some flawed polls!

But that's our premise. Rip Smith (James Stewart) is a pollster whose most recent company has gone out of business because he just can't afford a nationwide poll. He gets a letter from his old friend and war buddy, Hoopendecker (Ned Smith), telling him the results of his personal survey of opinions in his hometown of Grandview. They perfectly match the most recent Gallup poll to the decimal point. Rip gets the bright idea of moving out to Grandview along with Ike (Ned Sparks) and Mr. Twiddle (Donald Meek). He claims to be setting up an insurance agency, and instead, he is surveying the town. He sabotages the dream project of newspaper editor Mary Peterman (Jane Wyman) to build a community center, which would completely change the face of the town and ruin his plans. However, he turns out to be a former basketball star who takes over coaching the local team, including Mary's younger brother, Bob (Mickey Roth).

For all he's reviled for it, Rip is quite right when he says that the town cannot know how perfectly they match the nation at large. Later in the movie, the town conducts their own poll and comes out exactly the opposite of a similar Gallup poll. There is also no one who is listed as undecided. It's a controversial subject, and it seems probable that a majority of the people voting yes did so because they want to seem more progressive than they really are. The opinions people give when they know someone is paying attention are not necessarily the opinions they hold, and if Rip is trained in statistics, he'd know that. That's why he kept the secret. To me, it makes a heck of a lot more sense than marketing your whole town around the idea that you're completely typical. After all, once you have that attitude, you stop being typical. Everyone gets mad at him about it, but I think a few seconds of thought would be enough to tell people that he was absolutely right to keep that secret if he was going to do his job.

Of course, the movie probably doesn't want us to think that he should be doing that job. Public relations is not a particularly respected field, and I don't think it ever has been. And Lord knows I have problems with running everything by public opinion poll; I think there's a point where you have to do unpopular things in order to move society forward. However, that takes a kind of courage I don't think a lot of people have. And it's true that not all public opinion polls are on important subjects. (Though I took one myself the other day about the upcoming elections. Since the woman who called named her child after a character in an Ayn Rand novel--it came up!--I don't think she agreed with me on all particulars.) However, the field really is striving for the most accurate results they can get, and finding a town that perfectly encapsulated the public mood was a serious goal at the time on the grounds that it would make pollsters' jobs easier.

Really, the important question here is how well the romance plot and the polling plot combine, and the answer is that it's better than you might think. Oh, Jimmy Stewart was perhaps not the best person to cast as the Big City Fella Warming to a Small Town, but since we needed him to have a heart of gold, it works well enough. And of course all tall people are basketball stars, and Jimmy Stewart was one of the tallest men in Hollywood at the time. Jane Wyman was convincing enough as a crusading social do-gooder hoping that government would come to the boys' aid (we also don't ever seem to see teenage girls) that it makes me wonder how her politics conflicted with that of her then-husband. The solution to the town's problem is also appealing--and I think it may be appealing no matter where on the political spectrum you fall. Though I can't figure how much future Grandview has if there are no teenage girls, and it sure doesn't look much like a town of what the future actually turned out to be.
Edith Nelson
½
It has the look and feel of a Frank Capra film. Jimmy Stewart does his usual terrific job, Jane Wyman is fine as well. It's a good story that is good but could have been great, perhaps with a different director than William Wellman at the helm.
James Higgins
Discussion Forum
Discuss Magic Town on our Movie forum!
News & Features