Maniac Cop 2
(1990)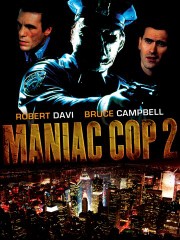 Tickets & Showtimes
Maniac Cop 2 Trailers & Photos
Movie Info
This sequel finds the Maniac Cop (Robert Z'Dar) alive but severely disfigured after a stay in prison. He joins forces with a bizarre killer of strippers in Times Square (Leo Rossi) to avenge the ones who put him away in the first place. A detective (Sean McKinney), who was originally on the case of the stripper killer, must stop them both.
more
Cast
News & Interviews for Maniac Cop 2
Critic Reviews for Maniac Cop 2
Audience Reviews for Maniac Cop 2
½
Sequel to the awesome Maniac Cop, Maniac Cop 2 is one awesome ride. Not as great as the original, this still manages to deliver awesome Horror thrills mixed with loads of low budget action. For me, the films in this series are by far the best B movie films ever made in the horror genre. They are loads of fun, despite being sleazy and feeling cheap at times. However the filmmakers obviously knew how to pull out something very good despite the fact that the film feels low budgeted. But who cares, right? All the best and greatest horror films of the late 70's and 80's were low budget films. Maniac Cop is just another example of a low budget classic. In this sequel, we get a bit more action than the first and Larry Cohen's script offers just the right amount of both elements(action and horror) to please the audience. In one scene, theres almost an homage to the first Terminator film as the Maniac Cop commits a massacre in a police precinct. The cast here are good Robert Davi is probably the best known actor in the film as he played in Licence To Kill and Die Hard. Robert Davi plays a tough cop on Matt Cordell's trail who is played Robert Z'dar. William Lustig's direction is again, impressive and he manages to get the most out of the actors and achieve a film with lots of action and horror. Matt Cordell is a very unique villain as he helps the criminals and not the victims, he kills the victims and Z'dar plays that character with phenomenal chilling perfection. All in all, not as great as the original, but still awesome in it's own right, and as far as sequels go, Maniac Cop 2 is a terrific follow up to a neglected classic of the horror genre. Maniac Cop 2 is one of the best horror sequels that I have ever seen, violent, horrifying and action packed, this will definitely appeal to fans of the first.
The sequel is better than the original, it's still pretty much par for the course in the horror-movie sequel stakes. This time the officers who refuse to believe that Office Matthew Cordell died at the end of the first film are vindicated as he goes on the rampage again.
Dean McKenna
Super Reviewer
Discussion Forum
Discuss Maniac Cop 2 on our Movie forum!
News & Features