Mark of the Devil
(1969)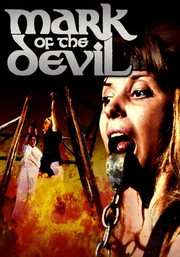 Mark of the Devil Trailers & Photos
Movie Info
Released as Mark of the Devil to U.S. theaters (accompanied by complimentary barf-bags for squeamish patrons with urpy tendencies), this gory torture-fest was produced in Germany under the title of Hexen bis aufs Blut Gequält (Witches Tortured Till They Bleed). The story is comprised of equal parts Ken Russell's The Devils and Michael Reeves' sardonic Witchfinder General (aka The Conqueror Worm). It involves the demented Count Cumberland (Herbert Lom), an Austrian nobleman who implements the witch-hunting policies of the Inquisition as a means of obtaining land, riches, and nubile young wenches -- particularly the lovely Vanessa (Olivera Vuco), who has been accused of heresy and witchcraft. Cumberland's accomplice in the torture and terror, Baron Christian Von Mem (Udo Kier), realizes too late that his mentor is the true evil stalking the land, not the terrified innocents whose "trials" are a mockery of justice. Christian is sacrificed to the enraged villagers during the inevitable revolt at the film's climax, while the Count makes a hasty escape -- thus enabling the birth of a sequel, Mark of the Devil Part 2. Both films were repackaged in the mid-70's and released in time to join the ranks of the European demon-possession subgenre (American release ads proudly proclaimed "Damn The Exorcist!"). The barf-bags were not entirely unjustified for this graphically sadistic exercise which assaulted audiences with explicit scenes of torture, including the removal of one poor victim's tongue. ~ Cavett Binion, Rovi
more
Cheezy Flicks Entertainment
Cast
News & Interviews for Mark of the Devil
Critic Reviews for Mark of the Devil
Audience Reviews for Mark of the Devil
½
I think I may've liked this more had it been interested in doing anything beyond showing how cruel the witchfinders were in their time, and the asshole actually gets away with it in the end of the film, denying us of the satisfaction of his comeuppance.

Knowing where it ends, I might be able to enjoy it more on a re-watch without going into it with the same expectations.

Rental?
½
One of the few exploitation films that takes itself seriously, which in effect gives the sickening gore some purpose, and for its time this film is noble in comparison to later sleaze works. Unfortunately, its efforts have potential only.
Richard Cranium
Discussion Forum
Discuss Mark of the Devil on our Movie forum!
News & Features