Une femme mariée: Suite de fragments d'un film tourné en 1964 (A Married Woman)
(1964)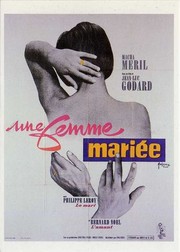 Une femme mariée: Suite de fragments d'un film tourné en 1964 (A Married Woman) Trailers & Photos
Movie Info
Director Jean-Luc Godard narrates this study of a married woman who begins an affair with another man. After becoming pregnant, she is unable to figure out which man is the father of her son and must choose between the two. ~ Iotis Erlewine, Rovi
more
Royal Films International
Watch it now
Cast
News & Interviews for Une femme mariée: Suite de fragments d'un film tourné en 1964 (A Married Woman)
Critic Reviews for Une femme mariée: Suite de fragments d'un film tourné en 1964 (A Married Woman)
Audience Reviews for Une femme mariée: Suite de fragments d'un film tourné en 1964 (A Married Woman)
It's hard to resist comparing "A Married Woman" with "A Woman Is a Woman" and "My Life to Live," two other female portraits which Jean-Luc Godard directed around the same time. Unfortunately, lead actress Macha Meril is no match for Anna Karina on any count. "A Married Woman" is also thornier to watch -- it's not subtitled "Fragments of a Film Made in 1964" (emphasis on "Fragments") for nothing. Almost Ingmar Bergman-like at times, it has trouble sustaining a groove due to its arty, stilted editing. It lacks "A Woman Is a Woman"s vivid colors, and the imagery is washed-out and bland even by black-and-white standards. There is little shadow or darkness in this world of pale walls and bedsheets.

Méril plays the title character Charlotte, who's uneasily married to a pilot but loves a local actor. She's not exactly a charmer -- she is distant, hesitant, not too bright and spends a lot of time in her underwear despite a somewhat doughy, unappealing physique. Vacantly living in the moment, she says her policy is "never to think twice about anything." She's quite concerned with her looks, and frets over her bustline and envies models in brassiere ads. Of course, the shots of her with magazines and billboards just reflect Godard's usual bent of portraying young women as flighty products of a commercialized culture. His strained insertion of personal influences is equally blunt and characteristic. Names such as Moliere, Rosselini, Dietrich and Cocteau (plus several others who may require Googling) pepper the dialogue and visuals.

Uncompromising from the start, the film opens with several minutes of conversation shards between Charlotte and her lover Robert. Godard is fascinated with shooting her nude body from a variety of demure closeups, and each new camera position brings a handful of enigmatic lines which may or may not make sense out of context. The same approach is repeated later with husband Pierre. Another odd motif is stringing together Charlotte's incomplete thought snippets as whispered narration. "In the middle of the corridor, hope...the image of a young girl...who am I?...exactly...the verb to follow, other reasons...I was once...not here, a year ago...only once, wasn't it?...it's his fault...then reality...." What? Maybe something was lost in the translation.

Charlotte hops between two worlds, meeting Robert during the day and Pierre and her young son at night. She takes juvenile pleasure in her secrecy, giddily switching taxi cabs like a furtive spy and imagining herself as an Alfred Hitchcock heroine. There isn't much plot -- she talks of divorcing her husband and going away with Robert, but there is no fierce pressure to decide. Pregnancy concerns also go unresolved. Instead, the action is mostly about Godard's various quirks and contrivances, which include a swimming scene flipped negative, offbeat references to Nazi concentration camps, a prolonged listen to a record of a woman laughing, a daring shot (for 1964) which suggests Charlotte giving herself a pubic trim, an absurd gadget to enforce good posture and a café chat where two girls' words are printed onscreen (presumably to simulate advertising captions?). There are also seven numbered segments with heady title cards like "Memory," "The Present" and "Childhood" -- the most interesting of them are "Intelligence" (offering some sharp philosophy from writer Roger Leenhardt) and "The Theatre and Love" (where Charlotte presses a flustered Robert to explain the difference between professional acting and one's calculated, real-life persona).

Certainly, "A Married Woman" is essential for Godard fans. But several of his other films should be seen first.
½
pacing in the beginning felt a bit off (non-continuity with accompanying soundtrack) but later feels more natural/digestible/seamless. Displays the effects of commercial culture that commodifies the female figure
Une femme mariée: Suite de fragments d'un film tourné en 1964 (A Married Woman) Quotes
Discussion Forum
Discuss Une femme mariée: Suite de fragments d'un film tourné en 1964 (A Married Woman) on our Movie forum!
News & Features