M.A.S.H. - Goodbye, Farewell, Amen
(1983)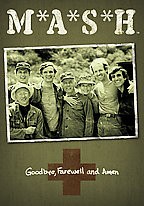 AUDIENCE SCORE
Critic Consensus: No consensus yet.
Cast
News & Interviews for M.A.S.H. - Goodbye, Farewell, Amen
Critic Reviews for M.A.S.H. - Goodbye, Farewell, Amen
There are no critic reviews yet for M.A.S.H. - Goodbye, Farewell, Amen. Keep checking Rotten Tomatoes for updates!
Audience Reviews for M.A.S.H. - Goodbye, Farewell, Amen
Randy Tippy
Super Reviewer
Before my time, but I got hooked watchin' the reruns with my father and fell in love with the show and 'course my favorite is Hawkeye.
½
All Good Things Must Come to an End

My dad missed this by twenty days. He and Mom watched the series together, and by the time I can remember things, we were watching as a family. I remember wanting to watch it, and I remember not being allowed to stay up. And Mom taped it. In my head, I remember it as Mom and Dad, because they watched so much of it together. But Dad died less than three weeks before this aired. Which means that this is another Good Parenting Thing Mom Did in Retrospect. Just like she didn't take us to see [i]Return of the Jedi[/i] when it opened that Memorial Day weekend. Elizabeth was just too young, but Elaine and I were two wounded little kids, and while Mom couldn't have known how this episode would play out, she must have known that the days where it would have been possible for the final episode to be merely wacky were long past. I think she let us watch the tape, but it wouldn't have been just before bed. It's one thing to watch it in the middle of a Saturday afternoon. It's another thing on a Monday during the school year.

We open with Dr. Benjamin Franklin "Hawkeye" Pierce (Alan Alda). Something unspecified has caused an off-screen nervous breakdown, and he's at a military hospital in (presumably) Seoul, being treated by Dr. Sidney Freedman (Allan Arbus). We discover its root as Hawkeye does. Outside the hospital, the war is drawing to a close. Dr. BJ Hunnicut (Mike Farrell) gets orders to go home. Colonel Sherman T. Potter (the late Harry Morgan) tells him it's a mistake, and BJ agrees wholeheartedly. But he wants to be home for his daughter's second birthday. POWs are pouring into the compound, and Dr. Charles Emerson Winchester III (David Ogden Stiers) captures a troupe of musicians who surrender to him while he's just trying to use the latrine. Likewise, Sergeant Maxwell Q. Klinger (Jamie Farr) is helping refugee Soon-Lee Han (Rosalind Chao) search for her family. And when Father Francis John Patrick Mulcahy (William Christopher) rescues POWs from shelling, his hearing is damaged. Major Margaret Houlihan (Loretta Swit) is getting career advice from her father.

Busy? Oh, yes. But there are several reasons for this. The first is that this is wrapping up eleven seasons' worth of plot. These characters don't have to be developed in the episode. Hawkeye and Margaret, at least, had been there from the first episode to the last. (Father Mulcahy had, too, but he was played by George Morgan in the pilot.) Charles, the newest major character, had been on well over a hundred episodes, longer than many entire series. Heck, even Sidney had appeared on what works out to about half a season of an ordinary show. It's true that [i]M*A*S*H[/i]-watchers do generally divide into people who like the early seasons and people who like the later seasons, and even the author of the original novel didn't much care for the later seasons. However, for those of us who prefer the later seasons, this episode gives us the catharsis we seek. Almost every conclusion for the characters makes sense with the characters as developed, unto Charles leaving camp in a garbage truck. After all, the whole of his story has been about assaults on his dignity, and this was the ultimate.

However, I'm not too jazzed by the Father Mulcahy deafness plot. It feels a bit tacked on, as though the writers said, "Well, we have to do something with him, too. What's an interesting thing to do?" But there's no set-up and really no payoff. I vaguely remember watching [i]After MASH[/i], and I presume they did something with it there, but I really don't remember and anyway I don't think that's the point. After all, there's a perfectly reasonable character conflict in his need to stay and help the orphans versus his desire to go home and maybe see his sister, the Sister, again. I suppose they thought that one "I'm going to stay in Korea" plot was enough, and it's true that Klinger's is funnier, but on the other hand, if Mulcahy did it, it would ring true. He is the one who is most aware of Korean culture and tradition, and he is the one with the most ties to the country. Having him suddenly go deaf doesn't add anything to the story or his character, though it does make for a few amusing moments given that he isn't telling anyone but BJ.

Oh, yes, the show lasted about four times as long as the conflict on which it was based. Not a new or original observation. And following the chronological hints dropped in various episodes doesn't help to establish a timeline, because there are all sorts of contradictions. (The series never seems to have hired a continuity editor, as evidenced by the fact that, for example, Henry Blake's wife had two different names and that Hawkeye went from having a mom and a sister to being an only child living alone with his widowed father.) Fair enough. As is the fact that one of the things the original novelist disliked so much about the series was its decidedly liberal slant--it's suggested that one of the reasons [i]After MASH[/i] failed was that it aired during the Reagan years. But there is that scene where various of the characters say what they're planning to do after the war. In an ordinary show, such as [i]M*A*S*H[/i] was in the early years, you would care what the main characters would do. But [i]M*A*S*H[/i] as it developed let you care about what the guy who served food was going to do after the war, too. And the writing of this episode meant that you believed what he said.
Edith Nelson
Discussion Forum
Discuss M.A.S.H. - Goodbye, Farewell, Amen on our Movie forum!
News & Features