M.D. Geist
(1996)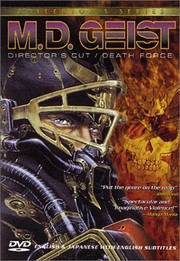 AUDIENCE SCORE
Critic Consensus: No consensus yet.
M.D. Geist Trailers & Photos
News & Interviews for M.D. Geist
Critic Reviews for M.D. Geist
There are no critic reviews yet for M.D. Geist. Keep checking Rotten Tomatoes for updates!
Audience Reviews for M.D. Geist
So bad that it's almost hilarious. Since its release in the US, M.D. Geist has had the distinction of being one of the most infamous anime in history. Originally doomed to die mostly unknown by the public, M.D. Geist managed to get a major boost thanks to Central Park Media founder John O'Donnel. This OVA became the central image of CPM's Anime distribution division US Manga Corps, so much to the point that the opening of every US Manga Corps DVD has a horribly dated CG picture of the title character to introduce every show they distributed. It was almost inescapable back in the 90's, and due to Anime's relatively low market back in the day, almost everyone bought a copy due to the need to promote the market further so that American otaku could get better programming in the future.

As for the OVA itself, all I can say is that it's a complete disaster. In a way it's actually worth seeing just purely due to how much of an epic failure it is. It's story is a convoluted mess, with a nonsensical plot that is full of holes, important plot points that lack a good enough explanation to understand what the hell is going on, and plenty of people acting like idiots. The characters are just as much of a mess. The only character who's motivations I could really get a grasp of was Geist himself, and even then, his only defining traits are violence and he ends out being wholly unsympathetic by the end of the OVA. The main female character, Vaiya, is absolutely baffling. I could almost swear that her character had schizophrenia just due to how much her attitude tends to change for no real reason. She also falls for Geist for no reason at all other than to take her clothes off and show her boobs to the audience. Classy. The final main character is Colonel Krutes, who is too much of an idiot to be sympathetic, despite being the only good guy in the entire OVA. The rest of the characters are blank slates. Some of them we don't even know their names. There's actually a particularly unintentionally hilarious scene where Krutes recites the names of a bunch of his men who died earlier in the OVA, and I can only remember actually hearing two or three of the names stated earlier in the OVA.

Where this OVA's awfulness truly takes the cake is its animation. The animation is choppy and looks way too unrealistic. The fight scenes look terrible and are choppy as well. For a fun drinking game, take a shot every time the screen looks blurred because the animators couldn't get a proper camera to zoom in on. This is some of the derpiest animation I've ever seen. Its almost like making fun of the cheap special effects in Ed Wood movies.

The only real praise I can give this is in it's soundtrack and it's armor and mech designs. The soundtrack is a really cheesy 80's rock/metal style which only adds to the hilarity and makes the action scenes, terrible as they are, more watchable. The mech and armor designs look really cool and dynamic. I've heard that director Koichi Ohata got his start as a mech designer and it shows here. Aside from that, I'd only reccomend this anime if you want something to laugh at. It's good for a roast and for pointing out all the various plot holes, inconsistencies, and animation mistakes.
Ben Strasz
½
There was a time when "normal" people thought all Japanese animation was gross, freaky and weird. M.D. Geist is proof that "normal" people weren't TOTALLY wrong. This is just about everything that was wrong with late 80s anime: non-existent story, terrible characterization, lame music, horrendous 80s Mad Max fashion, pointless ultraviolence, gratuitous nudity, constant style over substance attitude, and even a hilarious english dub. If you just added some heavy doses of deviant sexuality, you'd have every bad thing the ever happen to anime! Of course, the western anime industry was built by people who like that sort of thing, and if you count yourself as one of them, you'll like this too. If you're like me, though... well, I'm just glad I saw it on TV... for free.
Discussion Forum
Discuss M.D. Geist on our Movie forum!
News & Features