Miami Vice
(2006)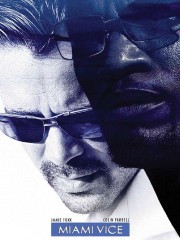 TOMATOMETER
AUDIENCE SCORE
Critic Consensus: Miami Vice is beautifully shot but the lead characters lack the charisma of their TV series counterparts, and the underdeveloped story is well below the standards of Michael Mann's better films.
Miami Vice Trailers & Photos
Movie Info
Ricardo Tubbs is urbane and dead smart. He lives with Bronx-born intel analyst Trudy, as they work undercover transporting drug loads into South Florida to identify a group responsible for three murders. Sonny Crockett is charismatic and flirtatious until--while undercover working with the supplier of the South Florida group--he gets romantically entangled with Isabella, the Chinese-Cuban wife of an arms and drugs trafficker. The intensity of this case pushes Crockett and Tubbs out onto the edge where identity and fabrication become blurred, where cop and player become one-especially for Crockett in his romance with Isabella and for Tubbs in the provocation of an assault on those he loves.
more
Cast
News & Interviews for Miami Vice
Critic Reviews for Miami Vice
Audience Reviews for Miami Vice
Chris Weber
Super Reviewer
Action: Realistic and engaging (except for the last gunfight where some fool shoots under a car... you'll see why). Plot: Absolutely horrible with one of the worst chemistries put into film (between Colin Farrell and some asian chick). It could've been great, but there were way too many problems with this highly stylized but lacking movie.
I might be one of the only people that thoroughly enjoy and respect Michael Mann's full length adaption of his t.v. series. I just think it has all the great things about cop dramas and all of the great techniques of Michael Mann. The digital video is ridiculously fitting for a movie about two Narcs in the middle of a gangster conflict. I guess you have to like the two stars of the movie, Colin Ferrell and Jamie Foxx, who carry their own fanbases and hate groups. For someone who's a fan of both, I thought it was an amazing team up and their chemistry was great together. This is clearly a movie that you have to want to watch and get into, not just something for casual viewing. This is extremely hard around the edges and has very little light-hearted moments. It's extremely gritty and a different kind of cop movie than we're used to seeing. I love how Miami Vice is serious about its goals and beautiful style. The plot is one of the more fine tuned and seems like it could possibly happen in a real-life scenario. Crockett and Tubbs got rid of their nutball clothes and were turned into some truly hard as nails cops.
Miami Vice Quotes
Ricardo Tubbs: Do you wanna fuck with my partner or do you wanna do business with us? 'Cause I don't give a shit how you think he looks.
Sonny Crockett: I'm a fiend for mojitos.
Discussion Forum
Discuss Miami Vice on our Movie forum!
News & Features