Midway
(1976)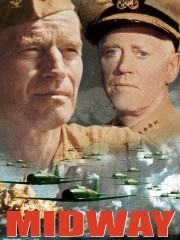 Midway Trailers & Photos
Movie Info
An expensive war epic, Midway emulates The Longest Day and Tora! Tora! Tora! in attempting to re-create a famous World War II battle from both the American and Japanese viewpoints. The 1942 battle of Midway was the turning point of the War in the Pacific; the Japanese invasion fleet was destroyed, and America's string of humiliating defeats was finally broken. Though the battle itself was sufficiently dramatic to fill two films, Midway also has plotline involving the mixed-race relationship between Ensign Garth (Edward Albert), son of Navy Captain Matt Garth (Charlton Heston), and Haruko Sakura (Christina Kokubo), a Hawaiian girl of Japanese descent. The real-life personages depicted herein include American Admirals Nimitz (Henry Fonda), Halsey (Robert Mitchum) and Spruance (Glenn Ford), and Japanese Admiral Yamamoto (Toshiro Mifune, his voice once again dubbed by Paul Frees, whom Mifune personally selected for the job). For its original road show release, Midway was offered in the "Sensurround" process, which electronically shook and vibrated the audience's chairs during the battle sequences. ~ Hal Erickson, Rovi
more
Cast
News & Interviews for Midway
Critic Reviews for Midway
Audience Reviews for Midway
I can't help but think that a certain amount of entertainment value was sacrificed for the sake of historical accuracy.
Randy Tippy
Super Reviewer
Like Flixster says, "Midway feels more like a history lesson than a drama". Still, it is history I am only vaguely aware of, so that is fine, but the movie seems long. There are a lot of famous faces in the movie. This film uses a lot of actual battle footage.
Midway Quotes
Adm. Chester W. Nimitz: That might be the smart play commander. Trouble is, I want that 4th carrier.
Adm. Isoroku Yamamoto: I have traveled widely in America my friends. Their industrial might is awesome! I am convinced that our only hope for victory is one massive strike at Midway.
Adm. Nobutake Kondo: This time, the God of Operations has conceived a monster.
Discussion Forum
Discuss Midway on our Movie forum!
News & Features