Mighty Morphin Power Rangers: The Movie
(1995)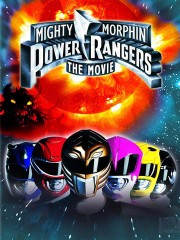 Tickets & Showtimes
Mighty Morphin Power Rangers: The Movie Trailers & Photos
Movie Info
Based on a popular U.S. children's action show, this chopsocky sci-fi fantasy tells the tale of six courageous teenagers. Though they appear perfectly normal, they are in reality superheroes who are experts in karate. When a slimy villain attempts to take over the world, the kids must stop him.
more
20th Century Fox Film Corporation
Watch it now
Cast
News & Interviews for Mighty Morphin Power Rangers: The Movie
Critic Reviews for Mighty Morphin Power Rangers: The Movie
All Critics (26) | Top Critics (12) | Fresh (11) | Rotten (11) | DVD (2)
Noisy and meant for children only. A bored grown-up's only consolation is that the Rangers' popularity has probably peaked, and the next kiddie phenomenon must be on the way. Don't even think about what it will cost.
New York Times
Top Critic
Brings the popular TV series to the screen with a barrage of spectacular special effects, a slew of fantastic monsters, a ferociously funny villain -- and, most important, a refreshing lack of pretentiousness.
Los Angeles Times
Top Critic
These are the same performers who appear on the TV show, and you get the feeling this has become more than a meal ticket for them. Hokey dialogue is invested with an intensity that takes you out of the movie and into the psyches of the actors.
San Francisco Chronicle
Top Critic
What depresses me inutterably is that children, who are fresh and inquisitive, will go to this movie and, for 88 minutes, the movie will do what it can to deaden their imaginations.
Chicago Sun-Times
Top Critic
The movie bolts along at a breakneck pace, from an opening sky diving scene to the climactic battle, which finds Ooze cackling away in the cockpit of a mechanical dinosaur.
Washington Post
Top Critic
Young fans of the six squeaky-clean super teens can look forward to an effects-loaded, energetic adventure that powers up martial-arts acrobatics as it cuts the cheesiness.
Audience Reviews for Mighty Morphin Power Rangers: The Movie
There was nothing cooler than being a little kid and watching this. Cheesy? Yes, but who gives a damn......it's the Power Rangers!
This movie really takes you back to the 90s, with all the one-liner jokes, the silly looking computer generated special effects, and of course, the power rangers. This movie is fun and exciting, but looks cheesy now.
Mighty Morphin Power Rangers: The Movie Quotes
Tommy/White Ranger: It's morphin' time!
Ivan Ooze: Zords smorges, they'll crush 'em like roaches.
Ivan Ooze: Woo! Where's my autograph book!?
Rocky/Red Ranger: Well, pack your bags. 'Cause we're sending you back right where you came from.
Ivan Ooze: Gee, a teenager with a big mouth. Not much has changed in 6,000 years.
Discussion Forum
Discuss Mighty Morphin Power Rangers: The Movie on our Movie forum!
News & Features