Mirror Mirror
(2012)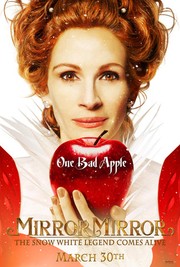 TOMATOMETER
AUDIENCE SCORE
Critic Consensus: Like most of Tarsem Singh's films, Mirror Mirror is undeniably beautiful -- but its treatment of the age-old Snow White fable lacks enough depth or originality to set it apart from the countless other adaptations of the tale.
Mirror Mirror Trailers & Photos
Movie Info
One of the most beloved stories of all time is coming to life in the motion picture event for the whole family, Mirror Mirror. A fresh and funny retelling of the Snow White legend, Mirror Mirror features breakout star Lily Collins as Snow White, a princess in exile, and Julia Roberts as the evil Queen who ruthlessly rules her captured kingdom. Seven courageous rebel dwarfs join forces with Snow White as she fights to reclaim her birthright and win her Prince in this magical comedy filled with jealousy, romance, and betrayal that will capture the hearts and imaginations of audiences the world over. The film also stars Armie Hammer as the Prince, and Nathan Lane as the hapless and bungling servant to the Queen. -- (C) Relativity
more
Cast
News & Interviews for Mirror Mirror
Critic Reviews for Mirror Mirror
Audience Reviews for Mirror Mirror
A charming, creative (and uneven) re-imagining of the Snow White tale. Entertaining performances by Armie Hammer and Nathan Lane. Julia Roberts was a disappointment, seeming to have dialed it in with the passion and skill of a high school drama teacher.
Snow White's story gets a pseudo-feminist re-boot, but much of the story remains intact.
I was ready to give this film three stars, a stretch for me because films like this are not my cup of tea, but the closing credits were scored by an auto-tuned, dance-club number that is, in the words of Super Reviewer Alice Shen, "half-Bollywood." I didn't even watch the full number. It was revolting.
I watched the film for its costume design, the category for which it's nominated, and the costumes and production design are indeed nomination-worthy. Lush, colorful schemes abound, and the film is a visual delight.
We all know the story. I have always contended that Snow White is coded racism and sexism; after all, the "fairest of the land" can be a synonym for "whitest," and Snow White is confined to domestic duties when she joins the dwarves. But when Snow eschews the Prince's help, she essentially deploys a feminist message, saying that she doesn't need a man to rescue her. I wish they had stuck with this, but the plot eventually proves that she does need rescuing. The film was so close to something unique.
All the performances are fine. Nathan Lane is Nathan Lane, and Julia Roberts is charmingly caddy. Lily Collins was there too.
Overall, this film had promise once upon a time.
Jim Hunter
Super Reviewer
Mirror Mirror Quotes
Charles Renbock: There's, I'm in the same room as a prince crazy, and then there's good old fashioned plain traditional psycho crazy. I fear she's the latter.
The Evil Queen: Brighton, a word, please.
Brighton: Yes, Your Majesty.
The Evil Queen: Loose lips, sink ships.
Brighton: Yes, indeed, Your Majesty. Exactly which ship would you like sunk?
The Evil Queen: It's an expression, Brighton!
The King: You may now kiss the bride.
Prince Alcott: Do I have to say please?
Snow White: 'I'll go someplace far away where I can be safe from the queen but I know I will forever cherish our time together. Love, Snow.
Discussion Forum
Discuss Mirror Mirror on our Movie forum!
News & Features