Modesty Blaise
(1966)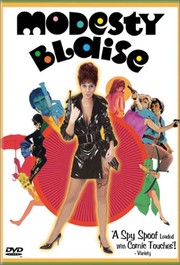 Tickets & Showtimes
Modesty Blaise Trailers & Photos
Movie Info
A popular British comic strip series served as inspiration for this light-hearted espionage adventure, which if nothing else certainly shows the marks of its origins in the mid-1960s. A large departure for director Joseph Losey, better known for brooding interpretations of Harold Pinter works (The Servant, Accident), the film is emphatically bright and colorful, taking on at times a nearly psychedelic feel. The strangeness is emphasized by the unusual casting, including Italian star Monica Vitti in her first English-speaking role as the title character and Dirk Bogarde, playing against type as her arch-nemesis. Essentially everything is played for its camp value, including the rather convoluted, James Bond-like plot, which concerns the hijacking of a shipment of diamonds heading for the Middle East. Like its mod-era sets and costumes, this unusual, inconsistent effort is certainly intriguing and attractive, but might seem rather dated to some. ~ Judd Blaise, Rovi
more
Twentieth Century Fox Home Entertainment
Cast
News & Interviews for Modesty Blaise
Critic Reviews for Modesty Blaise
Audience Reviews for Modesty Blaise
So very camp. Great actors, fine director and lovely sets can't save a bad script. There are only two reasons to watch this film: 1) the fashions modeled by Vitti, and 2) die-hard fans of Dirk Bogarde or Terence Stamp.
Talk about Sex Kitten with a Whip!!!! Sexy Spy Kitten A Go Go, with a Gun !!! Loved this years ago & it's Over The Top Fashionistsa Fabulousness has stayed with me.Saw it again recently & realized it didn't have much of a story.In this case, I don't care!I think she is suppose to be a Female James Bond, but more Austin Powers really,with a license to thrill in the bedroom.It was a Film that was so Visually Sensual with the memorably sexy Monica Vitti (who must have been the sexiest woman on the planet), the Decor(Round Bed) , Psychedelic Furniture & accessories, the Exotic Fashion,& even a Middle East Castle at one point.Everything so Camp ,Colorful,& Over the Top Sensual & Stunning.I would buy this Movie if I could find it, regardless of it's lack of depth.It just so personifies the excesses of the affluent & uninhibited, or at least our perception of them, in the swingin' 60's.I can't think of any other film like this, & if I were a fashion Designer, I would borrow ideas from this Film regularly.I think I want to be Monica Vitti in the 60's, I'm Pink All Over With Envy!
Discussion Forum
Discuss Modesty Blaise on our Movie forum!
News & Features