The Mummy's Ghost
(1944)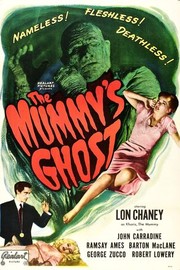 The Mummy's Ghost Trailers & Photos
Movie Info
A sequel to The Mummy's Tomb, this horror film follows the quest of the reanimated mummy to find a beautiful woman who may be the reincarnation of his beloved Egyptian princess. Conflict arises when his companion, an Egyptian priest, decides he wants the girl for himself.
more
Cast
News & Interviews for The Mummy's Ghost
Critic Reviews for The Mummy's Ghost
Audience Reviews for The Mummy's Ghost
½
Looking for love and horror in all the wrong places, undead shambler Kharis returns with Lon Chaney, Jr. again in the stuck-on-Band Aid role...to what end, God only knows. Better than its predecessor by a Country Nile but a far cry from the Frankenstein series, Mummy Dearest searches for the spirit of his long-dead lover in a museum and - pause for laughter - college campus. By now, the thrills and story are enjoyably laughable...even when this chapter proves to be a bummer. That's right--The Mummy's Ghost gets bleak by the time the rags unfurl in the final act. Strangely, this twist in tone elevates the material a slight bit.

In this unrated continuation of the Universal horror series, an Egyptian high priest (John Carradine) travels to America to reclaim the bodies of ancient Egyptian princess Ananka and her living guardian mummy Kharis (Chaney).

At this point, Chaney coasts through the undemanding role and Carradine, who also played an anemic version of Dracula in House of Dracula, enacts the thankless role of racist Egyptian caricature masquerading as High Priest. For such a straight ahead horror romp, there's a lot of story here and both actors shamble and deliver to good effect.

Bottom line: Tut Tut
An Egyptian cult is looking to reclaim the remains of an ancient princess who was stolen by American archaeologists and relocated to a museum in New England. They command the powers of an undead mummy (Lon Chaney Jr.), but their mission is complicated once it's discovered that the princess has reincarnated into a nubile college student (Ramsay Ames). The Mummy's Ghost was released in a time where Universal was churning out its horror movies with cookie cutter scripts, tiny budgets, and no trace of the exertion that James Whale or Tod Browning brought to this sort of material in the 1930's. While some of these films can be good for a lark, The Mummy's Ghost finds the cast and crew recycling the tropes of previous Mummy movies without any enthusiasm. One can skip The Mummy's Ghost without missing out on much.
Discussion Forum
Discuss The Mummy's Ghost on our Movie forum!
News & Features