Ne Te Retourne Pas (Don't Look Back)
(2009)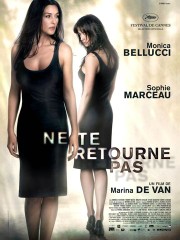 Ne Te Retourne Pas (Don't Look Back) Trailers & Photos
Movie Info
Not to be confused with the legendary D.A. Pennebaker documentary of the same name, this mind-bending psychological drama from France stars Sophie Marceau as Jeanne, a fairly well-adjusted wife, mother of two children, and author whose world gets turned upside down when she becomes aware of a calamitous transformation overtaking her own body. She quickly morphs into an Italian woman, also named Jeanne (Monica Bellucci); the latter's husband (like the first Jeanne's spouse) is named Teo (Thierry Neuvic). Understandably confounded and disoriented, Jeanne 1 sets out to solve the mystery of this metamorphosis by journeying to Jeanne 2's birthplace of Lecce, Italy.
more
Watch it now
Cast
News & Interviews for Ne Te Retourne Pas (Don't Look Back)
Critic Reviews for Ne Te Retourne Pas (Don't Look Back)
Audience Reviews for Ne Te Retourne Pas (Don't Look Back)
½
A French writer loses her ability to recognize her surroundings; her apartment becomes unfamiliar, her husband looks like a stranger, and eventually even the face she sees in the mirror is another woman's, until she follows a clue in a photograph and discovers a secret about her own identity. This psychological mystery is a bit slow moving and the movie lays on the horror music cues a bit too thick, but Sophie Marceau and Monica Bellucci give wonderful performances as the same woman in two different bodies.
Marina de Van's Ne Te Retourne Pas comes in the form of a mystery drama with some intrigue.At an hour and 45 minutes, Ne Te Retourne Pas is a tale of two halves. The first half moves along rather slowly, although the sense of secrecy and ambiguity with the plot is really high. This seizes the audience in, while providing little setup and leaving answers few and far in between. The camerawork and musical score also do wonders in this portion.The second half is all about finding answers, as at this point, the visually amusing character transformation is complete. The mysterious feel of the picture diminishes, but the interest level picks up.Both European beauties, Sophie Marceau and Monica Bellucci, successfully carry their portion of the film, while playing the same character. As one disappears, another shows up. Marceau fulfills the first act and Bellucci the second.Patience is a key to unraveling the story of Ne Te Retourne Pas. Is it worth it? Take a chance and Don't Look Back.
Discussion Forum
Discuss Ne Te Retourne Pas (Don't Look Back) on our Movie forum!
News & Features