Neighbor
(2009)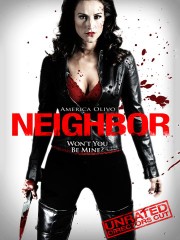 AUDIENCE SCORE
Critic Consensus: No consensus yet.
Neighbor Trailers & Photos
Movie Info
Neighbor cleverly flips the gender roles of classic exploitation cinema staples, giving us a lone woman who terrorises a series of mostly very frightened and defenceless men. Love thy neighbour? Depends on where your pain threshold lies. If you couldn't handle the last act of Takashi Miike's Audition, this isn't the film for you; we can't imagine finding a nastier film this year. It's character-driven, mind you, unlike the so-called 'torture porn' wave. Neighbor is an astonishing modern Grand Guignol masterpiece.
more
Cast
News & Interviews for Neighbor
Critic Reviews for Neighbor
There are no critic reviews yet for Neighbor. Keep checking Rotten Tomatoes for updates!
Audience Reviews for Neighbor
Though the blood and gore were very realistic, and the acting was pretty decent, that still doesn't make up for the shitty writing and useless plot. Some things the characters said in the movie was just so stupid. Like I couldn't imagine anyone saying that in real life. I'd give examples, if I could remember any.

The plot was probably the worst thing about the film. So a crazy girl goes around and torture/kills people..........and? what? That's it? It was so shallow. Clearly she's a psycho, but was she always like that? Something a little deeper into her background would've satisfied me. She didn't even have a motive. I would've been interested in why she did the things she did. It seemed kind of pointless. Why is she killing/torturing people? She enjoys it........okay...but are there any other reasons? It was just a plain & simple idea that anyone could've come up with.

The next thing that bothered me was the fact that she kills all these people, and she doesn't get caught. Really? People see her around, no one has suspected her? In the one scene where the psycho girl is sitting on the bench with the mother talking. The mother realizes she's a bit off, and leaves the park with her child. There's also a dog walker there, who is kidnapped by the psycho. The dog walker was the mother's neighbor....so wouldn't the mother realize she was missing? And wouldn't the mother call the police and give a detailed description about the psycho girl she saw at the park? I mean the movie let's her get away with so much, and the psycho isn't even very good at hiding up any evidence she leaves behind. I just couldn't believe that she hadn't been caught yet. The movie also doesn't show how the psycho girl kidnaps any of her victims. She's a scrawny girl, how can no one stop her? Are they really [I]that[/I] weak? It was just so unbelievable. The gore and violence were actually pretty impressive, but that doesn't excuse the god awful plot. And for the record, the guy she was torturing for 2 days, would've died from loss of blood much sooner than that....and she kept him conscious for the majority of it, so he probably would've died even sooner. Duh.


Don't watch this movie, unless you're watching it for the blood/gore.
A little nasty and extreme low budget creeper.

This movie is brutal. Loads of disgusting bloody torture, I don't get how this didn't receive an NC-17 rating. Maybe it did originally I just didn't do research on it's MPAA ratings. But other than it's gruesome gory violence there's not much else. It brings nothing new to the table. If you were to take out all the gore scenes this would be a lame movie. Not the worst but just pretty boring. I do give it respect for having the balls to go as far as they did and still manage to make it look good. Great, good old fashioned latex gore! Descent but highly forgettable movie. Avoid the R rating and rent the UNRATED. I don't know the differences between the two, but shit, why rent the R rating and watch something that's just going to be watered down. This movie puts most mainstream "torture porn" (I know - I hate that fucking label to) to shame! Descent film. I just wish it was more fun and a little less sadistic, which would be fine and everything (the sadistic part), but like I said...only if it was a little more fun. Give it a go though...if you can stomach this kind of stuff.


jd cryptic
Super Reviewer
Discussion Forum
Discuss Neighbor on our Movie forum!
News & Features