New Jack City
(1991)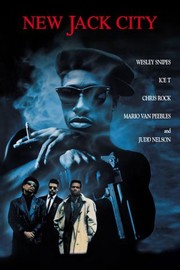 New Jack City Trailers & Photos
Movie Info
The ruthless leader of a New York City drug syndicate battles to maintain his power and avoid imprisonment in this fast-moving action drama. While the film's heroes are Scotty (Ice-T) and Nick (Judd Nelson), a pair of tough, streetwise cops, the main focus is their target, drug lord Nino Brown (Wesley Snipes). A criminal businessman with no room for pity or emotion, the flashy but severe Brown has built an empire and transformed an abandoned Harlem apartment building into a well-defended fortress. He begins to consider himself invincible, but his lust for power and the unpredictable actions of a former client turned police informer threaten to bring about his potential downfall. First-time director Mario Van Peebles keeps the traditional plot moving at an appropriately rapid pace, with stylish action sequences and energetic performances. The film's violence was somewhat controversial on its initial release, especially after shooting incidents marred showings in several theaters. However, the film's moral message is clearly anti-drug and anti-crime, its main intent to provide a high-powered, modern take on the gangster movie. ~ Judd Blaise, Rovi
more
Cast
News & Interviews for New Jack City
Critic Reviews for New Jack City
Audience Reviews for New Jack City
Chris Weber
Super Reviewer
½
A team of maverick cops investigate when a gangster takes over an entire tenement block in the New York ghetto. Although this film enjoys a good reputation as a hard-hitting, socially conscious representation of life in "the hood", it is actually EXACTLY the kind of testosterone-soaked, cliched crap that Mario Van Peebles has made his bread and butter ever since. Tacking on montages of drug use and a couple of lines about the "drug problem" at the end does NOT a social documentary make. It's really just the same old straight to DVD standard Van Damme/Seagal level tripe with a blaxploitation spin, and features some of the kinds of fashions that have been forgotten with good reason. Not to mention a soundtrack that ignores the era in which some of the best hip hop was made, instead littering it with the kind of "R'N'B" warbling that is the worst thing to EVER happen to popular music. The direction is beyond amateurish, script cliche-riddled and dumb and performances vary between laughable stereotypes and just plain awful (Chris Rock is truly dire and the Pookie-on-the-pipe montage is one of the most laughable attempts at manipulation I've ever seen). Try King Of New York or Dead Presidents instead, because this is just substandard junk trying to make a few bucks out of showing black people kill each other and pretending it's "important".
Really one of the best modern gangster movies and definitely the most violent and all out crazy only next to Scarface. This is so different from the average Italian Mobster type of movie and it's really refreshing in that sense. However, it does have all the shootings and drugs that are such a staple of the crime genre so you aren't cheated out of that. It's got a great cast led by the unstoppable Wesley Snipes and no nonsense Ice-T. I think this is the most accurate and timely gangster movie of the nineties, which means a lot being released around the same time as Goodfellas, Godfather Pt. III and Casino.
New Jack City Quotes
Officer Nick Peretti: Behind Door No. 1, your head explodes like a melon!
Scotty Appleton: Behind door No. 2, you hook us up with Gee Money and get the prize, Nino Brown.
Scotty Appleton: You know, a drug dealer is the worst kind of brother. He won't sell it to his sister, he won't sell it to his mother. But he'll sell it to one of his boys in the street. I don't know about you, but I'm ready to kill Nino Brown. Are you with me?
Officer Nick Peretti: I'm ahead of you.
Pookie: Scottie, help me - I'm gonna die!
Old Man: Idolater! Your soul is required in hell!
Discussion Forum
Discuss New Jack City on our Movie forum!
News & Features