New York, New York
(1977)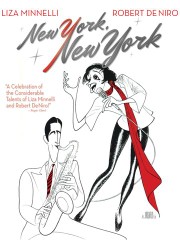 Tickets & Showtimes
New York, New York Trailers & Photos
Movie Info
Set primarily in post-WWII New York City, Martin Scorsese's extravagant romantic musical is about a jazz saxophonist and a pop singer who fall madly in love and marry. But the saxophonist's outrageously volatile personality places a continual strain on their relationship, and after they have a baby, their marriage crumbles.
more
Cast
News & Interviews for New York, New York
Critic Reviews for New York, New York
Audience Reviews for New York, New York
William Dunmyer
Super Reviewer
This is a Scorsese film that typically gets overlooked, and, while I can see why (to a degree), I think it's actually pretty good, and probably one of his most underrated- and that last little bit is something that needs to change.

The film was a departure and an experiment for Marty. It was his follow-up to Taxi Driver, and needless to say, this didn't make the impression left by that one. For this, Scorsese decided to abandon the gritty realism of his previous works and craft a loveletter to his city, big band (and some jazz) music, and the lavishly produced movie musicals of Old Hollywood. It was a noble effort, and no one can deny the fact that this is made with tons of love, care, and respect.

The film follows a go-getter sax player named Jimmy Doyle who's got talent, but can also be overwhelmingly obnoxious, stubborn, and hard to deal with. He meets a low level club singer with big hopes and the two form a perfonal and professional relationship with one another. Over time though, the pressure of show biz see the fall of their love as their careers rise.

In order to bring his vision to life, Scorsese and his director of photography Laszlo Kovacs and production designer Boris Levin used intentionally artificial looking sets and specific lighting to recall the old days of studio musicals, with a touch of film noirish qualities thrown in for good measure. The result is gorgeous and one of the best made homages out there. (I'd say it's up there with Ed Wood and Black Dynamite in this regard).

Like most Scorsese efforts, it's more of a character driven piece than a plot driven one, and that's fine, but even then, I really noticed just how light this film is on substance, and, for that matter, characters who truly come to life that you can care about. All other aspects of the film help to cover this up, but there's no denying that most of the film feels like it's on auto pilot.

Still though, I can't hate this one too much. The performances are absolutely terrific, and this made me actually be interested in Liza Minnelli and the talent she has. De Niro of course not surprisingly delivers another solid performance. In fact, the first oh, 40 mins or so, were absolutely 100% brilliant. I was beginning to think that this was a great overlooked true masterpiece. Seeing De Niro slink around trying to pick up women is simultaneously hilarious, awkward, and annoying, but totally excellent. If only the rest of the movie maintained that same level of energy, fun, and focus throughout its 163 minute run time instead of gradually falling back and becoming a rambling drawn out procedure could it be called a great piece of work. I didn't quite get bored, but I started to get antsy and wonder what the point was.

All in all, this is a pretty good movie. It is flawed yes, but in the context of when it came out and what the intentions were, it's wrong to ignore this. Come to it with an open mind, and give it a chance.
Chris Weber
Super Reviewer
A Scorsese masterpiece that happens to be forgotten, unfortunately. If this film had been released in the '50s and hadn't that usual Scorsese brutality to it, it would have been considered among the greatest classics. But then again, I loved the gritty yet beautiful touch from master Martin Scorsese he brought to this classy musical and I don't mind the time this was released for I watched it more than thirty years later. So for me, this is a masterpiece.
Discussion Forum
Discuss New York, New York on our Movie forum!
News & Features