Lo Squartatore di New York (The New York Ripper)
(1982)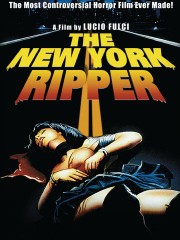 Lo Squartatore di New York (The New York Ripper) Trailers & Photos
Movie Info
Jack Hedley of The Anniversary stars as a hardbitten police lieutenant tracking a sadistic sex-killer in this gruesome thriller from splatter-maven Lucio Fulci. The misogynistic script (by Fulci and prolific collaborators Gianfranco Clerici and Vincenzo Mannino) posits a femme-hating psycho (who talks like Donald Duck) slashing beautiful women with a switchblade and a straight-razor because his daughter is in the hospital and will never grow up to be beautiful. Fulci was apparently trying to work in a statement about American competitiveness by making his heroine (Antonella Interlenghi) an aspiring Olympic athlete, and having a killer who is concerned that his daughter will never be "the best," but the point gets lost amidst the buckets of blood and gratuitously kinky sex scenes. Pandering to the lowest common denominator as never before in his career, Fulci showed with this blatant play for the sicko slasher crowd that the days of well-plotted, stylish Italian horror were gone, replaced with the most vicious sort of sexual violence and perversion. Despite all of that, there is one fairly masterful sequence in which the suspect's S&M sex partner learns his identity from a radio broadcast and must untie herself and escape while he sleeps. This scene is tense and nerve-wracking, a high-point of genuine fear amidst a nauseating collage of metal blades slicing female flesh. A shameful piece of work that makes Mario Landi's Giallo a Venezia look positively liberated, it co-stars Renato Rossini, Andrea Occhipinti, and Paolo Malco, with cult figures Alessandra Delli Colli, Daniela Doria, and Barbara Cupisti on the chopping block. Cinematographer Luigi Kuveiller, editor Vincenzo Tomassi, and composer Francesco De Masi have all done better work.
more
Cast
News & Interviews for Lo Squartatore di New York (The New York Ripper)
Critic Reviews for Lo Squartatore di New York (The New York Ripper)
Audience Reviews for Lo Squartatore di New York (The New York Ripper)
The New York Ripper is one of Lucio Fulci's last great films. What I love about this film is that it's a drastic departure from Fulci's previous Gates Of Hell Trilogy which started with The Beyond followed by The House By The Cemetery and concluded with City Of The Living Dead. The New York Ripper is a mix between detective fiction and slasher film. Lucio Fulci's The New York Ripper is an underrated film from the godfather of gore. But it's understandable as to why it is viewed as garbage. The film is not for the faint of heart, as it's sexually violent, obscene in some parts. But there are a few well constructed scenes of tension and horror. Though Fulci's glory days were behind him at this point of his career. He managed to direct an intense slasher film that makes Friday The 13th look like a Disney film. Fulci's use of gore is relentless and he delivers it in spades. The film was marketed with the tagline: "The most controversial movie ever made". Well, it's definitely one of the most disturbing of the slasher films out there. Fulci fans will love it, common viewers will despise it, and dismiss it. The New York Ripper is an intense slasher film that is in the same category as William Lustig's Maniac! If you love slasher films of the 1980's, and don't mind hardcore violence or mind it, but want to see a terrific slasher film thats been long forgotten, then The New York Ripper is one film that takes no prisoners. One of the most violent films of Lucio Fulci's career, and if you're familiar with Fulci, then that says something about this film.
It's a Fulci film, and as such defies nominal reviewing. Either you're interested in this or not. This one dialed back the gore some but replaced it with sleaze.
Lo Squartatore di New York (The New York Ripper) Quotes
Discussion Forum
Discuss Lo Squartatore di New York (The New York Ripper) on our Movie forum!
News & Features