Night People
(1954)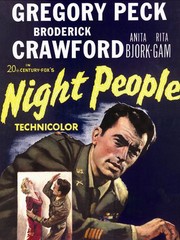 AUDIENCE SCORE
Critic Consensus: No consensus yet.
Night People Trailers & Photos
Movie Info
In this espionage thriller, set in the midst of the Cold War, an intelligence officer attempts to rescue a soldier who has been captured by the communists and taken to East Berlin. If the Westerners send a former German general to their headquarters, the captors will release the boy unharmed.
more
Cast
News & Interviews for Night People
Critic Reviews for Night People
There are no critic reviews yet for Night People. Keep checking Rotten Tomatoes for updates!
Audience Reviews for Night People
Steve Smith
½
Oscar nominated for best writing, this conflict is man vs. man with a Cold War setting in West Germany just after WWII. Sparks fly between a wealthy capitalist father and Colonel Gregory Peck as the two unravel a tale of false romance inside of suspense drama.


SEE this clip as Peck early in the film explodes on the screen against a wealthy father causing trouble:

www.youtube.com/watch?v=jae5Ydt6vMQ

[img]http://upload.wikimedia.org/wikipedia/en/9/9f/Night-people-1953-us-poster.png[/img]

Allied enemies kidnap Corporal John "Johnny" Leatherby, a young American soldier in West Berlin. Lt. Col. Steve Van Dyke, the American provost marshal assigned to investigate, learns through his East German contact Frau "Hoffy" Hoffmeir that the soldier has been kidnapped by East German agents who want to trade him for a pair of elderly Germans.

Jed Harris and Tom Reed were nominated for an Academy Award for best writing, motion picture story.

The film opened in New York on March 12, 1954, to favorable reviews, but was not well received by the public.

[img]http://s3.amazonaws.com/auteurs_production/images/film/night-people/w448/night-people.jpg?1312742153[/img]

Never heard of this one, as the old saying goes. But now that I have seen Night People with Gregory Peck in a dominating role.... I am glad I did. Peck fans will love this one. Suspense fans will find this a fast paced film as Peck unravels a story of espionage in true cold war fashion.

SEE the entire film here on youtube.com:

http://www.youtube.com/watch?v=VUJc_r-zw7U


[img]http://newcombat.net/Conversation/wp-content/uploads/2009/11/night.jpg[/img]


NOTES:

1 Peck stated that the role of Steve Van Dyke had been one of his favorites, because his lines were "tough and crisp and full of wisecracks, and more aggressive than other roles" he'd portrayed.

2 New director Nunnally Johnson had been seeking a project to break into directing, and approached Darryl F. Zanuck to direct Night People. Peck's confidence in Johnson was so high that he readily approved him for his directorial debut.

3 The screenplay was developed under the title The Cannibals, a phrase used in the dialogue to describe the kidnappers of Corporal Leatherby. In July 1953 the New York Times reported that the title was changed to Night People to avoid audiences anticipating "an African adventure."


[img]http://img.movieberry.com/static/photos/49716/poster.jpg[/img]


Cast

Gregory Peck as Lt. Col. Steve Van Dyke
Broderick Crawford as Charles Leatherby
Anita Björk as "Hoffy" Hoffmeir
Rita Gam as Ricky Cates
Walter Abel as Maj. R.A. Foster
Buddy Ebsen as M/Sgt. Eddie McColloch
Max Showalter as Frederick S. Hobart
Jill Esmond as Frau Schindler / Rachel Cameron
Peter van Eyck as Capt. Sergei "Petey" Petrochine
Marianne Koch as Kathy Gerhardt
Ted Avery as Cpl. John Leatherby
Hugh McDermott as Maj. Burns
John Horsley as Lt. Col. Stanways



Directed by Nunnally Johnson
Produced by Nunnally Johnson
Written by Nunnally Johnson
Jed Harris (story)
Tom Reed
W.R. Burnett (uncredited)



Music by Cyril J. Mockridge
Cinematography Charles G. Clarke
Editing by Dorothy Spencer

Distributed by 20th Century Fox
Release date(s) March 12, 1954

Running time 93 min.
Country United States
Language English
Budget $1,250,000
Box office $2,150,000 (US rentals)
monsieur rick
Discussion Forum
Discuss Night People on our Movie forum!
News & Features