Night of the Ghouls
(1959)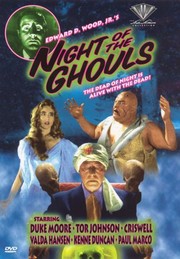 Tickets & Showtimes
Night of the Ghouls Trailers & Photos
Movie Info
From one of the worst director's in Hollywood history comes the third entry in his cycle of four incredibly awful horror films. Like Wood's Plan 9 from Outer Space, this one features the dubious talents of the psychic Criswell, muscleman Tor Johnson, and Vampira. The terror begins as Dr. Acula, a phony medium, and his crew bilk wealthy customers during fake seances. One night, they inadvertently hold a real seance and bring angry zombies back from the dead. Angry at being reawakened, they get gruesome revenge upon the crooks. The film is also known as Revenge of the Dead.
more
Cast
News & Interviews for Night of the Ghouls
Critic Reviews for Night of the Ghouls
Audience Reviews for Night of the Ghouls
Probably the worst of Ed Woods sci-fi/horror flicks which is quite an achievement haha the lack of Lugosi is the real undoing here, his iconic charm is badly needed to lift this as the other players just don't/can't do the job. There isn't much of a job to do here to be honest as the plot is wafer thin and barely covers one hour but Lugosi would always bring a sparkle to any nonsense haha at least we have Tor Johnson to lurch and lumber around with classic Wood direction along with Criswell in his ever clean tucks :)
Some of the 'effects' are quite cool in their cheapness and do bring a kind of cheesy fairground fun house theme to the proceedings which somehow keeps you interested, just, but we all know what to expect from Ed Wood so you just watch to see the imagination and resourcefulness of his film making, kudos for effort with no money :)
Over acting, bad dialogue, technical flaws, flying trumpets on strings, just another "so-bad-its-good" film from Ed Wood.
Discussion Forum
Discuss Night of the Ghouls on our Movie forum!
News & Features