A Nightmare on Elm Street
(1984)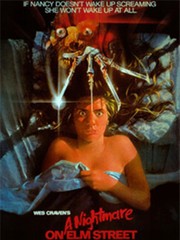 TOMATOMETER
AUDIENCE SCORE
Critic Consensus: Wes Craven's intelligent premise, combined with the horrifying visual appearance of Freddy Krueger, still causes nightmares to this day.
Tickets & Showtimes
A Nightmare on Elm Street Trailers & Photos
Movie Info
A group of teenagers are terrorized by "Freddy Krueger", an evil being from another world who gets to his victims by entering their dreams and killing them with gloves that have knife blades attached to each finger.
more
Cast
News & Interviews for A Nightmare on Elm Street
Critic Reviews for A Nightmare on Elm Street
Audience Reviews for A Nightmare on Elm Street
Really like this one - classic 80's horror. Acting is a bit hammy, but it works. Nancy is a likeable lead and Freddie Krueger is just horrible and still quite scary even now.
Just bought the box set of 6 movies, so will be working my way through them this long weekend. (Happier about this than I probably should be!).
½
Nancy: Whatever you do don't fall asleep. 

"If Nancy Doesn't Wake Up Screaming She Won't Wake Up At All..."

A Nightmare on Elm Street is a horror classic and deserves every bit of praise it has gotten. This is one of Wes Craven's best movies, probably only behind Scream. An iconic villain is created here in Freddy Krueger, and is effect would be felt through countless sequels and even a remake. None of the sequels or the remake can touch this one though. It's a great mixture of gore and atmosphere. There's always that ominous feeling in the air.

A former child murderer comes back to life and kills by taking kids when they are asleep. As kids continue to die, Nancy must find a way to bring an end to it all. The story is one that was pretty groundbreaking for the time and also extremely smart. This is a story that can truly keep people up at night, because if you fall asleep; Freddy might get you.

Wes Craven has always been hit or miss for me, but this one lands squarely in the hit section. The atmosphere he creates is absorbing to say the least. There's also always a cool appeal to the film. It's just one of those classic horror movies that I can watch many, many times; like Halloween or Scream. 

A Nightmare on Elm Street is required viewing for the horror fanatic in us all. It spins a web of crazy dream sequences, blood, and intelligence. It isn't the same old, same old slasher, but one with something to spice up the normal formula. Some scenes are among some of the coolest the genre has ever seen, and there's something about Freddy that makes him more than the average villain. It's almost as if, he were truly alive.
Melvin White
Super Reviewer
A Nightmare on Elm Street Quotes
Freddy Krueger: Am your boyfriend now Nancy.
Freddy Krueger: Why are you screaming? I haven't even caught you yet.
Nancy Thompson: One two... Freddy's coming for you... 3, 4 better lock your door..5, 6 grab a crucifix... 7, 8, gonna stay up late, 9, 10, never sleep again!
Nancy Thompson: Wathever you do... DON'T... FALL... ASLEEP...
Discussion Forum
Discuss A Nightmare on Elm Street on our Movie forum!
News & Features