North
(1994)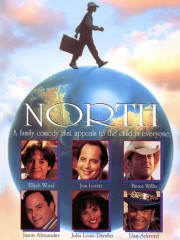 North Trailers & Photos
Movie Info
A young boy demands a divorce from his neglectful parents and is granted approval -- but only if he can find suitable replacements within two months. He then sets off on a quest around the world in search of the perfect family in this parable-like comedy.
more
New Line/Columbia Tristar
Cast
News & Interviews for North
Critic Reviews for North
Audience Reviews for North
Marc Lewis
Super Reviewer
Every director suffers from one very bad film throughout his career in the case of Rob Reiner, that film is North. I remember watching this film when I was younger, and not liking it at all. I got the idea of the film back then, but now over fifteen years after this film was released, this film has absolutely no merit in entertainment. One thing that's shocking is that the film has a very good cast, but not even that can save this shameful film from disaster. The reason the film is bad, is the films premise. A boy divorces himself from his parents to find better parents. Hell, parents aren't supposed to be cool, they're the authority figure, and though most are very strict in many respects, a lot of them compensate by being fair. Hell I was brought up with that. I think that this film spits in the face of parents, and not only that, it insults the viewers intellect, and tries to say that their parents aren't worth a damn. This film isn't Rob Reiner's brightest career move, and that's a great shame because he's made some classics over the course of his career. This is the worst possible family film that you can possibly watch. I was a kid when this film came out, and I remember how bad this was. A good cast is wasted on such a terrible film, it's a great shame, because there's some impressive names attached to this piece of trash.
½
Criative story, bad film. It's not so terrible like say, but still a crap. Rob Reiner's Unmasterpiece.
North Quotes
North: Hang on guys, I think I left my butter churner in the overhead locker. Floor it!
North: Hang on guys, I think I left my butter churner in the overhead locker, hah. [to pilots] Floor it!
Discussion Forum
Discuss North on our Movie forum!
News & Features