Once Upon a Time in China 3 (Wong Fei Hung ji saam: Si wong jaang ba)
(1993)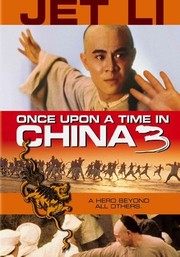 Tickets & Showtimes
Once Upon a Time in China 3 (Wong Fei Hung ji saam: Si wong jaang ba) Trailers & Photos
Movie Info
In this, the third of what has become a long series of films, Doctor Wong Fei-Hung (Jet Li), a master of the martial arts, defender of the poor, upholder of tradition and a Confucian scholar (in addition to being a medical man) is visiting Beijing during a competition designed to determine what group has the best Lion King dancers. The doctor's father, a member of the Cantonese Association in town, is well known for his ability to turn out the best Lion King, and the many criminal gangs of the city, usually embroiled in rivalry against one another, are of one mind when it comes to wanting to eliminate the threat that this "outsider" will win. However, they had not counted on the intervention of the good doctor and his helpers. Simultaneously, the doctor foils several nefarious plots against the government - one of which has gotten his lady-love, Aunt Yee (Rosamund Kwan) involved. ~ Clarke Fountain, Rovi
more
Sony Pictures Home Entertainment
News & Interviews for Once Upon a Time in China 3 (Wong Fei Hung ji saam: Si wong jaang ba)
Critic Reviews for Once Upon a Time in China 3 (Wong Fei Hung ji saam: Si wong jaang ba)
Audience Reviews for Once Upon a Time in China 3 (Wong Fei Hung ji saam: Si wong jaang ba)
My favorite of the original Li Trilogy. What with the China-Japan-Russia intrigue, the realization of love and impending marriage between Li and Aunt 13, the whole moving picture angle, and the Clubfoot subplot, this one has so much going on that it's a writer's dream. Plus it's Jet Li, so why haven't you seen it already : ) The more I see of Jet Li, the more I regret that he's giving up action movies, and the more I think getting older can sometimes suck. I hope he retires in Honolulu so I can study kung fu with him : )
½
The Empress of China decides to hold a Lion King competition as a show of strength to foreigners; rather than uniting her people, the impending event causes fights to break out between rival martial arts schools across the country. Out to ensure that as many potential winners are quashed before the contest even takes place, the nasty Chiu Tim-ba and his men attack the other competitors, including the father of the legendary Wong Fei Hung.

Wong (Jet Li) steps in to protect his old man, gets in a few scraps, and eventually becomes involved in foiling an assassination attempt on a high ranking governor, whilst at the same time trying to make sure that the ex-boyfriend of his sweetheart stays his distance.

As a big fan of Jet Li, I really have tried my utmost to enjoy the OUATIC movies, but, even with the incredible cinematography, lavish sets and costumes, powerful score, and welcome appearances from industry greats such as Yuen Baio and Donnie Yen, the series has left me rather unimpressed.

And Part 3 does nothing to change that.

This chapter moves the action from Canton to Beijing, but almost everything else stays the same. We get more xenophobia, more silly wire-work enhanced fight scenes, more playful romance between Wong and his girl (the gorgeous Rosamund Kwan), more lame comedy, and not enough memorable martial arts action from Li. And this time round we also get lion dances. Lots and lots of lion dances.

If the sight of men dancing and leaping about in brightly coloured lion costumes doesn't sound like fun to you, then I strongly suggest you do not watch this film (lion dance fetishists, however, will have a field day!).

I had always found the traditional Chinese lion dance rather interesting to watch, but this film has dampened my enthusiasm for them more than just a tad. OUATIC 3 starts with lion dances, has a few lion dances throughout, and end with lots of... you guessed it.... lion dances!!! Sure, some of the lions have booby trapped mouths which fire arrows, and another has blades attached to it, and there's a humongous lion at the end to spice things up, but there's only so much wiggling of lion bodies, jiggling of lion heads, snapping of lion mouths and fluttering of big lion eyes that I can take.

In fact, only the presence of the delightful Miss Kwan as Aunt (or is it cousin?) Yee kept me sane. Once again, she is a joy to behold and makes the whole lion-infested film worth enduring.
Once Upon a Time in China 3 (Wong Fei Hung ji saam: Si wong jaang ba) Quotes
Discussion Forum
Discuss Once Upon a Time in China 3 (Wong Fei Hung ji saam: Si wong jaang ba) on our Movie forum!
News & Features