Oscar and Lucinda
(1997)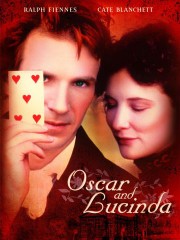 Tickets & Showtimes
Oscar and Lucinda Trailers & Photos
Movie Info
Australian director Gillian Armstrong directed this Laura Jones adaptation of Peter Carey's 1988 Booker Prize-winning novel. In a lengthy flashback, Oscar Hopkins' great grandson (Geoffrey Rush) narrates the family history that led to his birth. On an Australian farm, Lucinda Leplastrier was tutored by her intelligent mother, a woman who took part in the early feminist movement. Oscar's lonely boyhood in rural England was under the watchful eye of his preacher father. At Oxford to train as a minister, the adult Oscar (Ralph Fiennes) feels he doesn't fit in and develops a passion for gambling, giving his winnings away to the poor. Oscar and Lucinda (Cate Blanchett) meet aboard a ship; he's off to the outback to work as a missionary, and she's returning from London after buying equipment for her glass factory. As mutual misfits, they have an instant attraction and quickly grow close, developing a romantic relationship based on trust. However, the Rev. Dennis Hasset (Ciarán Hinds) and Lucinda are friends, sharing an interest in glass. Convinced they are in love, Oscar embarks on an unusual and difficult task, building a glass church for the reverend, an ambitious project to attempt in the remote wilderness. ~ Bhob Stewart, Rovi
more
Twentieth Century Fox Home Entertainment
Cast
News & Interviews for Oscar and Lucinda
Critic Reviews for Oscar and Lucinda
Audience Reviews for Oscar and Lucinda
Sloooooooow and ponderous.
½
[font=Century Gothic]"Oscar and Lucinda" is about two young people, Oscar and Lucinda, who start out on opposite sides of the world in the 19th century. They have a mania in common: gambling.[/font]
[font=Century Gothic][/font]
[font=Century Gothic]Oscar(Ralph Fiennes, doing a spot-on impression of Juliet Stevenson) is a troubled divinity student at Oxford. One day, a fellow student drags him to the racecourse and Oscar wins his first bet. He continues to do well with gambling; donating most of what he wins to charity. But terribly wracked with guilt, he chooses missionary work in New South Wales, Australia.[/font]
[font=Century Gothic][/font]
[font=Century Gothic]Lucinda(Cate Blanchett) is an heiress from rural Australia. Almost on a whim, she decides to purchase a glass works with her inheritance. She is introduced to cardplaying by her social acquaintances and is hooked.[/font]
[font=Century Gothic][/font]
[font=Century Gothic]"Oscar and Lucinda" is a beautiful, well-made allegorical movie about the debate between a fixed universe and what chance has to play in our lives. Oscar has a firm belief in a higher power but he still gambles. It's a contradiction when he introduces chance into a world he believes has been designed by a higher power. Water has a symbolic part to play in this movie, too. In Christianity, water is seen as a cleansing agent and is used for baptism but Oscar has a raging fear of it due to him associating it with his mother's death. The movie is also helped along by fine support from Tom Wilkinson and Ciaran Hinds. [/font]
Oscar and Lucinda Quotes
Oscar Hopkins: For years I have gambled and took what I needed and gave the rest to the poor. I gambled for a purpose. There was no sin in what I did. But when I had all my needs paid for, I still could not stop... even when I promised God.
Lucinda Leplastrier: We shall make a pact.
Oscar Hopkins: We shall?
Lucinda Leplastrier: To never gamble again. I promise I shall never invite you to a game of cards or any other form of gambling. And we shall keep it and be friends.
Narrator: Oscar had tasted the pudding. It did not taste like the fruit of Satan.
Oscar Hopkins: I dare not hope, and yet I must that through this deed I gain your trust.
Discussion Forum
Discuss Oscar and Lucinda on our Movie forum!
News & Features