Paradise Alley
(1978)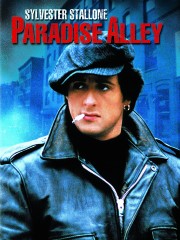 AUDIENCE SCORE
Critic Consensus: No consensus yet.
Movie Info
Film auteur Sylvester Stallone wrote, directed, and stars in this re-working of Rocky to fit an old-fashioned Hollywood formula, depicting three brothers from New York's Hell's Kitchen of the 1940s who want to claw their way out of poverty. Lee Canalito is the muscle-brained iceman Victor, and Armand Assante is the embittered, crippled war veteran Lenny. But the smooth-talking con man brother Cosmo (Sylvester Stallone), sees beef-cake Victor's fists as their ticket out of the slums. Cosmo, ever the manipulator, convinces the dull-witted Victor to participate in a series of bone-crunching wrestling matches as Kid Salami. Cosmo and Lenny exploit Victor's brute strength to grab the fast money on the wrestling circuit. But their climb to success is halted when the local gangster Stitch (Kevin Conway) puts up his malicious and dangerous wrestler Frankie the Thumper (Terry Funk) to fight against Kid Salami in a 22-round meat-pounder.
more
Cast
News & Interviews for Paradise Alley
Critic Reviews for Paradise Alley
Audience Reviews for Paradise Alley
Cassie Hill
Super Reviewer
½
You've gotta love the lunk, another fight show with a big heart, one-man show as Stallone wrote, directed, acted, and sang the theme song in his first followup to Rocky. This time the story's based around three Italian brothers and their attempts to make money out of the youngest's wrestling ability. With Terry Funk (champion westler, see Beyond The Mat for more details) and Tom Waits in his film debut as the piano-playing Mumbles...so no typecasting there then.
Surprisingly enjoyable, especially If you like 70's films in general, Rocky in particular or wrestling in the rain.
½
I ain't nobody's fart catcher.

Three Italian brothers are surviving by any means necessary in Hell's Kitchen. One brother survives through brute strength, one by being a con artist, and one as an underground physician. The brothers work together to try and build up the strong brother's confidence to win a wrestling match and take down a rival.

"It's my monkey, grease-ball."
"It may look like you, but it doesn't belong to you."

Sylvester Stallone, director of Rocky II, III, IV; Rambo; Rocky Balboa; Staying Alive; Expendables; and the upcoming Rambo: The Last Blood, delivers Paradise Alley. The storyline for this had a great beginning but then trails off when it focuses on the wrestling match over the family in the slums storyline. The acting was okay and the cast includes Stallone, Anne Archer, Lee Canalito, Armand Assante, Kevin Conway, and Tom Waits.

"You fishing for a compliment or something."
"Yeah."
"I'll mail it to you."

I grabbed this off Netflix since I never heard of it as I enjoy most Stallone pictures. The bar setting was very cool and well done and the script was pretty clever; but unfortunately, this takes a Meatballs direction. I wish they stuck to the bar setting and plot, a little like Bar Fly. Overall, this could have been a good film but falls short.

"A flying rat!"

Grade: D
Kevin Robbins
Discussion Forum
Discuss Paradise Alley on our Movie forum!
News & Features