Paradise Lost 2 - Revelations
(2000)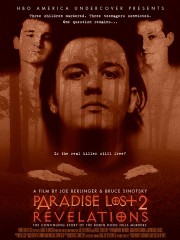 Movie Info
This documentary takes another look at the murders of three young boys in Robin Hood Falls, AR. Their deaths were the subject of a 1996 film entitled Paradise Lost: The Child Murders at Robin Hood Hills. Many questions have been raised about the evidence against three young men who were convicted of the crime. Joe Berlinger, who co-produced the first film, returns to Robin Hood Hills to learn more about the investigation and to see how the small town is coming to terms with its loss.
more
Cast
News & Interviews for Paradise Lost 2 - Revelations
Critic Reviews for Paradise Lost 2 - Revelations
Audience Reviews for Paradise Lost 2 - Revelations
½
Appreciate the execution. There's not much matter, yet it succeeds to keep the show going. While I was able to see it all coming and found it overtly predictable, I still wasn't bored by it (well, for enough of the part). Close enough to its prequel. On a side-note, if you're in the US of A, if something suspicious happens to you that may amount to a crime, don't let go of the situation & report it/write a book on it. It might as well be the next blockbuster/bestseller by disaster. Crime sells big time. Just killing ;-)

Pardon the typos, whether or not intentional. But if it's intentional, it can't....... Have it as you please.
The first film was so successful at causing doubt that a lot of restrictions were placed on this second film. Now only one parent of the murdered boys is willing to take part, no footage is allowed to be recorded in court, and the attorneys of two of the accused will not be interviewed. As such, this film has to struggle to find more things to detail, and also has less scope than the original. This film is mostly about saying that it could have been somebody else. They find reported teeth marks on one of bodies, which some experts argue aren't teeth marks and some say that they are. All this means is that how can we trust "experts" when they argue with each other. A lot of focus is placed on John Mark Byers. Here is a man that comes off as mentally unstable, has a violent and drug filled past, lies (or is at least very confused) about aspects of his life. How can you tell three different stories about how you lost your teeth? I mean really different stories. It's aggravating that somebody with such a poor grasp on reality cannot even consider the boys' innocence (I've read that now he does). His wife dies due to undetermined causes and still he is less of a subject than the three boys. Again, this film isn't about who did it, only that it may not have been these boys, and there is no real evidence to suggest that it was. I'm glad these guys are now out of jail, and hope Berlinger and others will continue their investigations to find the real killers, even if that just means finding proof that it was these boys.
Discussion Forum
Discuss Paradise Lost 2 - Revelations on our Movie forum!
News & Features