Paranormal Activity
(2009)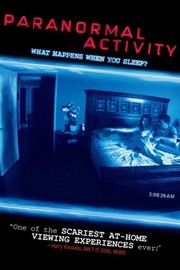 TOMATOMETER
AUDIENCE SCORE
Critic Consensus: Using its low-budget effects and mockumentary method to great result, Paranormal Activity turns a simple haunted house story into 90 minutes of relentless suspense.
Paranormal Activity Trailers & Photos
Movie Info
A haunted house makes no secret of the fact it's not pleased with its new tenants in this independent tale of supernatural horror. Katie (Katie Featherson) and Micah (Micah Sloat) are a twentysomething couple who've just moved into a new home in San Diego, CA. Katie has an interest in the paranormal and believes that malevolent spirits have been following her since childhood, though Micah is not so easily convinced. However, after several nights of loud noises and strange happenings, Micah starts to agree with Katie that some sort of ghost may have followed them to the new home. After a paranormal researcher tells the couple he can't help them, Micah decides to take control of the situation and sets up a battery of video cameras so that if a spirit manifests itself, he can capture its behavior on tape. Once the surveillance cameras are in place, Katie and Micah bring in a Ouija board in an effort to talk to the spirits, a move that deeply offends the ghosts. Paranormal Activity was the first feature film from writer and director Oren Peli. ~ Mark Deming, Rovi
more
Cast
News & Interviews for Paranormal Activity
Critic Reviews for Paranormal Activity
Audience Reviews for Paranormal Activity
The idea may be interesting even if totally unoriginal, and the story is developed in a careful pace, which works well enough for what is wants to accomplish. But still, this movie feels like only a silly trick to scare the audience and nothing else, yet it isn't scary nor intriguing.
½
Not a monumental piece of work, but it still delivers thrills and never bores. It's basically pop-out after pop-out. It's incredibly cool watching it with the sound loud and the lights off.
Paranormal Activity Quotes
Katie: I think we'll be okay now.
Katie: [referring to the photograph that Micah found in the attic] Where was it when you found it?
Micah: It was over our bed.
Micah: Well, basically it could be two things: it could be a ghost... [mock whisper] or it could be a demon.
Katie: Dr. Fredrichs said that it wasn't a ghost.
Micah: Well, I've been going by the evidence and I'm doin' my research and I'm going to find out what it is.
Katie: Well, whatever it is that's following me, it doesn't feel... it doesn't feel human. It feels like it's... it feels like a monster. I mean like, it wants to hurt me.
Micah: Well that sounds like, actually like a demon.
Katie: Yeah, that's what he said.
Micah: Well, 'cause ghosts are spirits of human beings.
Katie: Yeah, it's definitely not human.
Psychic: Then maybe you're right, which is bad 'cause demons suck.
Katie: I don't give a fuck what that thing says on the Ouija board!
Discussion Forum
Discuss Paranormal Activity on our Movie forum!
News & Features