Paris Holiday
(1958)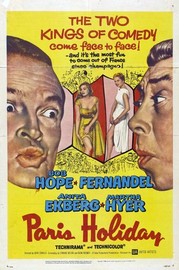 AUDIENCE SCORE
Critic Consensus: No consensus yet.
Movie Info
Two of filmdom's finest farceurs--Hollywood's Bob Hope and France's Fernandel--are teamed in the location-filmed Paris Holiday. Since Hope coauthored the script, however, guess which actor has the largest part. Cast more or less as himself, Hope plays an American comedian who comes to Paris to purchase a script. Little does his suspect that the script contains secret messages pertaining to a vicious gang of counterfeiters. With the help of villainess-turned-heroine Anita Ekberg, Hope is committed to an insane asylum to protect him from the bad guys; he then must rely upon Fernandel to spring him from the looney bin. Throughout Paris Holiday, Bob Hope looks too old and too rich to be indulging in such nonsense. Film buffs will enjoy the brief, unbilled appearance by famed producer-director-writer Preston Sturges.
more
Cast
News & Interviews for Paris Holiday
Critic Reviews for Paris Holiday
There are no critic reviews yet for Paris Holiday. Keep checking Rotten Tomatoes for updates!
Audience Reviews for Paris Holiday
½
The French meet Bob Hope in Paris Holiday. The glorious Technirama cinematography and period soundtrack are a refreshing touch to remind us what movies used to be like, if only for a late fifties, early sixties moment. On youtube.com this film is in widescreen, a real treat! With Bob Hope though you know what you are getting. He's chasing a gal all over a cruise ship bound for France and due to his celebrity on-board succeeds to some extent.


[img]http://i.ebayimg.com/t/Martha-Hyer-Bob-Hope-Fernandel-Original-1958-Photo-Paris-Holiday-Ship-Deck-/00/s/MzI2WDQwMA==/$(KGrHqR,!qgE-y5MmBtQBP54RmgGDw~~60_35.JPG[/img] The cruise voyage to France has Hope romancing


SEE the entire movie here:

http://www.youtube.com/watch?v=vrm3wwvn_VU



The first half hour is tedious and labors for what seems like hours. The laughs are sparse despite Hope spitting them out faster than an attack rifle. A rather chesty gal chases Hope through the film acting as some secret agent.


[img]https://encrypted-tbn2.gstatic.com/images?q=tbn:ANd9GcSlTLDQlvWPVLdRf98jmRkyQzbAOgpO44b2QbQxg4OPgeUSNa-hWQ[/img]


This film is largely for Hope fans and fans of Paris as the settings are in glorious Technirama technicolor shot on location, or so it appears. The cast and even people on the street are all dressed in gowns and suits, day or night. Hard to believe people dressed so extravagently even for a movie set.

I would suggest this film to those interested in an era long lost and much like a time capsule. Everything about it reaks of that late fifties early sixties taste in upper class type movies.

Cocktails at eight everyone!

[img]http://ecx.images-amazon.com/images/I/51luICfVQAL._SX300_.jpg[/img]


REVIEWS by the not professionals:


1 Dumb ending but classic Bob Hope schtick and most of the movie was entertaining; his one liners are so stupid they're funny; neat to see 1958 Paris and all the lavish wardrobes and settings, takes you away from the real world for a while and back in time....


2 Not as good as his other films. I'm surprised his screenwriting wasn't so great, that subsequent comedy writers and editors didn't come to his rescue. Female lead reminded me of Grace Kelly of course, but she wasn't. Who knows what happened here, but I am a HUGE Hope fan, so it wasn't a total loss.


[img]http://www.rockshockpop.com/screencaps/bob-hope-2/video.jpg[/img]


NOTES for the note nutty:

1 Although Hope initiated production of the film, and came up with the story idea, the intent for the film to be a showcase for both himself and (French Comic) Fernandel is indicated by the opening credits, where Hope's name and Fernandel take turns being listed first.

2 Location shooting took place in Paris, and in the village of Gambais.

3 Hope described the difficulties involved in producing Paris Holiday in his book "I Owe Russia $1200".

4 Hope and Bing Crosby recorded two songs written for the movie - "Paris Holiday" and "Nothing in Common" - for United Artists Records in February 1958. Crosby did not appear in the movie.


Bob Hope as Bob Hunter
Fernandel as Fernydel
Anita Ekberg as Zara
Martha Hyer as Ann McCall
Preston Sturges as Serge Vitry
André Morell as American Ambassador
Alan Gifford as American Consul
Maurice Teynac as Doctor Bernais
Yves Brainville as Inspector Dupont
Jean Murat as Judge
Irčne Tunc as Shipboard Lovely

[img]http://ecx.images-amazon.com/images/I/515DC4RA9KL._SL500_AA300_.jpg[/img]




Directed by
Gerd Oswald

Produced by
Bob Hope
C.R. Foster-Kemp (associate)

Written by
Bob Hope (story)
Edmund Beloin
Dean Riesner


Music by
Joseph J. Lilley (score)
Jimmy Van Heusen (song-music)
Sammy Cahn
(song-lyrics)


Cinematography
Roger Hubert

Editing by
Ellsworth Hoagland

Distributed by
United Artists

Release date(s)
March 28, 1958 (Los Angeles)

Running time
103 minutes

Country
United States

Language
English


[img]http://upload.wikimedia.org/wikipedia/en/thumb/2/2d/Paris_Holiday_poster.jpg/220px-Paris_Holiday_poster.jpg[/img]
monsieur rick
Discussion Forum
Discuss Paris Holiday on our Movie forum!
News & Features