The People Under The Stairs
(1991)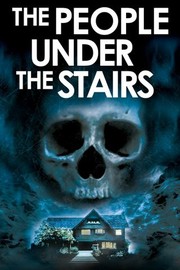 The People Under The Stairs Trailers & Photos
Movie Info
Wes Craven wrote and directed this surrealistic horror-comedy, which was inspired by a true story of parents keeping their children locked in a basement for years. Fool (Brandon Adams), an African-American teen, breaks into the home of the wealthy landlords who evicted his family from a ghetto tenement. A fortune in gold coins is rumored to exist inside, but Fool discovers that the mansion is a chamber of horrors presided over by a pair of incestuous, serial killer siblings (Everett McGill and Wendy Robie). The twisted couple has also tried to raise a succession of kidnapped boys. Each botched effort is handled the same way -- the victim's eyes, ears and tongues are removed, and he's sent to live in the sealed-off basement, where a colony of similarly deformed "brothers" resides. Fool is able to avoid the evil lovers as he moves through the house's maze of hidden passageways. He discovers that the occupants have a daughter, Alice (A.J. Langer), who has survived their abuse, so he rescues her and they attempt to free the "people under the stairs." Adams, who made his feature debut with in film, was familiar to viewers as the star of rock singer Michael Jackson's Moonwalker (1988). ~ Karl Williams, Rovi
more
Rating:
R (adult situations/language, violence)
Genre:

Horror

,

Comedy

Directed By:

Wes Craven

Written By:
Wes Craven
In Theaters:
Nov 1, 1991 Limited
On DVD:
Oct 7, 2003
Runtime:
Cast
News & Interviews for The People Under The Stairs
Critic Reviews for The People Under The Stairs
Audience Reviews for The People Under The Stairs
Leroy: Nice to see the rich folks' got rats too.

"In every neighborhood there's one house adults whisper about and children cross the street to avoid."

The People Under the Stairs is a classic 90's horror film from Wes Craven. Craven has made some of the best horror films and some of the lousiest, and The People Under the Stairs belongs to neither of these categories. It's not great, with weak acting and a real lack of anything scary, but it's definitely not bad. The story is a good one and Craven's direction and pace is strong. Also there's a lot of social commentary thrown into the plot as well, which always is good as long as the content works.

A young kid named Fool and is family are in trouble. His mother is really sick and they're about to be evicted from their apartment. When an older gentleman named Leroy asks Fool to be the third person on his team, which is planning to break into the landlords house where a big stash of gold coins are supposed to be and steal them, Fool is apprehensive, but ultimately his families problems force him to do so. When they get into the house, it's not what they expected. Not only are the landlords crazy, but they have a bunch of prisoners locked up in the cellar.

This is a fun little movie. It's one of those horror movies that you know is a product of the nineties, with the campiness of the villains and the ghetto setting. The movie has an interesting premise that the rest of the movie is able to live up to and that's saying something for the genre. Most of the time with horror films of this type, the premise is interesting, but the movie falls apart after twenty minutes. That isn't the case here.

If you're a fan of horror films and Wes Craven, this one is worth a look. It's no Nightmare on Elm Street or Scream, but it's a nice, solid addition to Craven's filmography. Don't go into it expecting anything special and you should enjoy yourself. I know that I did and I honestly wasn't expecting to.
Melvin White
Super Reviewer
½
The films of Wes Craven have proven to be all over the place in terms of quality over the years, but this one falls on the more positive side of things...and it's quite a doozy too.

After being threatened with eviction from their rundown tenement, a young teen named Fool decides, along with a couple of thugs, to rob the mansion where their landlord lives. The place is rumored to contain a fortune in gold, but once the trio break in, they find far more than they bargained for, and soon realize that maybe they should have just dealt with the eviction instead.

This film, while it has shades of movies like The Hills Have Eyes, The Texas Chainsaw Massacre, and even Home Alone, proves to be quite original. It's definitely uneven, and has a really long and drawn out conclusion that begins to get really overstuffed, but, if you're in the mood for something wild, off the wall, and twisted, this might be the film for you.

If you can tap into the film's groove, you might have a good time. It's definitely over the top and ridiculous, but the less you know about it going in, the better and more effective it is. It's not really scary per se, but it actually does have a few moments of genuine tension and suspense. There's bits of dark humor here and there, butI wouldn't call it a full on horror comedy.

Brandon Adams, also known for his work in the Mighty Ducks series, is prretty good here. He's rather compelling as a kid caught up in a horrifying and surreal situation. Ving Rhames is also pretty good as Leroy, one of the thugs that Fool goes along with. Everett McGill and Wendy Robie are deliciously demented as the main antagonists.

Yeah, the film is a little rough, but it has some fun ideas, it's pretty engrossing, and even though it's quite nuts, it's worth a look.
Chris Weber
Super Reviewer
The People Under The Stairs Quotes
Leroy: Maybe the President's gonna make me Secretary of Pussy!
Mommy: You kids'll be the death of me! The death of me.
Leroy: (talking to Fool about a noise he heard in the vents) Something's in there. As a matter of fact, why don't you crawl in there and see what it is?
Fool: Turkey-brain! Are you hitting on me like I'm here to save your ass? You're gonna stick your dumb head in there and lose it, like Spenser!
Mommy: (to Alice) Speak when spoken to. That's what good girls do.
Discussion Forum
Discuss The People Under The Stairs on our Movie forum!
News & Features