Pet Sematary Two
(1992)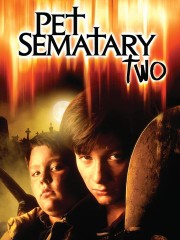 Tickets & Showtimes
Pet Sematary Two Trailers & Photos
Movie Info
This follow-up to the sizable horror hit concerns a Maine teenager who discovers the eerie power of a legendary local haunt. Edward Furlong stars as Jeff Matthews, who, with his veterinarian father Chase (Anthony Edwards), moves to latter's small hometown of Ludlow, Maine, in order to escape unhappy memories. Jeff's divorced mother, low-budget horror movie actress Renee (Darlanne Fluegel), was recently electrocuted and killed in a freak accident -- the entire incident was witnessed by Jeff. In his new community, Jeff hears stories of an ancient Indian burial ground nearby where dead pets that are interred come back to life. Jeff also becomes friends with pudgy Drew (Jason McGuire), whose abusive, bullying dad Gus (Clancy Brown) is Ludlow's sheriff. When Gus kills his son's dog, Drew and Jeff bury the animal, which returns from the dead. When the vengeful dog kills Gus, Drew and Jeff bury the lawman in the cemetery and he comes back significantly the worse for wear, wreaking evil havoc that temporarily puts several of Ludlow's residents six feet under. The original Pet Sematary (1989) was based on a novel by Stephen King, who did not participate in the sequel.
more
Cast
News & Interviews for Pet Sematary Two
Critic Reviews for Pet Sematary Two
Audience Reviews for Pet Sematary Two
Gus Gilbert: No Brain, no pain... think about it. 

"Raise Some Hell."

Pet Sematary Two was surprising because  it wasn't nearly as horrible as I thought it would be. It's still bad, but it has its entertaining parts. It doesn't make much sense to make a remake of Pet Sematary, but it happened, and  it could have turned out much worse. Comparatively to the first one, it's not as creepy(and the first one wasn't that creepy).

This one has a whole lot going on when nothing is going on. The movie is weird, goofy and over the top. The plot is slightly more ridiculous than that of the first, but nothing new is really established; just more of it. Basically it's the first movie, but uses the end of the first movie and makes it pretty much the whole film. There are a lot more deaths and a lot more blood and the whole thing comes off as a mess. 

It isn't scary and they try to make up for that by making it funny, when it should be scary. Sometimes it works to an extent, but most of the time it just comes off as annoying. There's a lot of family drama involved like in the original, but it isn't used as well and most of it just comes off as laughable. 

What I did like about this more than the first was that the acting was better. I know that isn't saying that much.  I liked Edward Furlong in his role as the grieving young kid. On a whole the movie isn't good at all. It makes no effort to stand apart from the first and really is just a bad sequel of a not so great horror film.
Melvin White
Super Reviewer
Not as good as the first, but it brings in a large amount of gore, which feels humorously over the top at times. I liked it.
Pet Sematary Two Quotes
Amanda Gilbert: (when Gus comes home as a zombie) God, you're cold as ice. And you smell bad, what did you get yourself into?
Chase Matthews: The pathologist. He said that you had reported a similar incident, with a cat.
Dr. Yolander: The Creed cat, that's right. Bastard's name was 'Church'. Let me guess. Your dog's tissue isn't healing, pupils aren't dilating, maybe you can't find a heartbeat?
Chase Matthews: Exactly! I thought it might be some sort of blood condition, immune deficiency or...
Dr. Yolander: There's no 'blood condition.' The dog isn't sick, it's dead. And so was Creed's cat. And so was his wife the night she was killed for the second time. You want some advice, friend? You get in your car, you pick up your family, and you get the hell out of that town.
Clyde Parker: Ellie Creed was the only survivor. One night she went crazy and hacked up the grandparents and the cops found her licking the brains off the knife.
Drew Gilbert: Picture this. Gus comes down to breakfast and he doesn't say a word. He even kind of smiles, like he forgot he hates me. And then you know what he does? He serves me an extra helping of pancakes. I asked him if I was still grounded, 'no.' I asked him if you could spend the night, and he nods. It's like we're a family. A real family.
Discussion Forum
Discuss Pet Sematary Two on our Movie forum!
News & Features