Playback
(2012)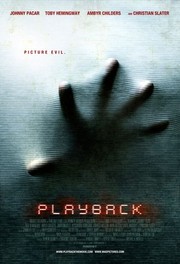 Playback Trailers & Photos
Movie Info
While digging into their town's infamous past, a group of high school students unwittingly unlock an even darker secret. Now, an evil spirit has been awakened and will stop at nothing to find his true heir. -- (C) Magnolia
more
Cast
News & Interviews for Playback
Critic Reviews for Playback
Audience Reviews for Playback
MisterYoda ?
Super Reviewer
This awful mid budget horror feels like the worst ever episode of the "X-Files", a dated plot about a teen who gains evil powers by viewing some found footage. There are two movies within the movie but the quality is so bad overall that it's hard to distinguish any of them. Christian Slater looks relatively healthy again so his mum might like watching this, nobody else will.
The Movie Waffler
Super Reviewer
Playback is a B-Horror film that in a sense is nothing more than a new take on the Amityville Horror. Instead of a demon possessing a house, the demon in this film, keeps his spirit alive on videotape, and when someone sees the tape, they become the next possessed killer. The story was entertaining but wasn't really anything new or extraordinary and the same can be said about the cast. The cast, led by The Covenant's Toby Hemingway, wasn't one of the most talented casts I've ever seen, but they may have been the best looking. There are some really good looking people in this film, and believe it or not, it helps to keep your attention. The film is a little dull and predictable at times, but there is always something nice to look at. This movie isn't original and won't shock or surprise you, but it may just entertain you for a couple hours and it will most certainly have your eyes glued to the screen.
Playback Quotes
Frank Lyons: I have all the characteristics of a human being: blood, flesh, skin, hair; but not a single, clear, identifiable emotion, except for greed and disgust. Something horrible is happening inside of me and I don't know why. My nightly bloodlust has overflown into my days. I feel lethal, on the verge of frenzy. I think my mask of sanity is about to slip.
Frank Lyons: You see, my friend, I can't help it if I'm driven by the motives of a stronger youth.
Wylie: Not so, Frank. I feel as though the harpies call me to their den of lies and hatred.
Quinn: Too true, my dear. Now I shall pull back the curtains of deceit on the foul beast called loneliness.
Discussion Forum
Discuss Playback on our Movie forum!
News & Features