Police Academy 5: Assignment Miami Beach
(1988)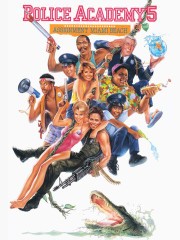 Police Academy 5: Assignment Miami Beach Trailers & Photos
Movie Info
America's most inept law enforcement team mixes business with pleasure as they head to sunny Florida in this comedy. The aging and often-confused head of the Police Academy, Commandant Lassard (George Gaynes), has reached mandatory retirement age, much to the pleasure of the devious Capt. Harris (G.W. Bailey), who is still scheming to take over his job. Lassard, Harris, and a handful of the Academy's "distinguished" graduates (including Bubba Smith, Michael Winslow, Leslie Easterbrook, and Marion Ramsey) travel to Miami Beach for a special ceremony to commemorate Lassard's years of service as he leaves the force; however, a luggage mix-up puts the clumsy cops in the middle of a massive illegal arms deal. Police Academy 5: Assignment Miami Beach was the first film in the long-running series that did not star Steve Guttenberg (Bob Goldthwait also left the franchise at this point), but most of the other regulars bravely soldiered on without him.
more
Cast
News & Interviews for Police Academy 5: Assignment Miami Beach
Critic Reviews for Police Academy 5: Assignment Miami Beach
Audience Reviews for Police Academy 5: Assignment Miami Beach
Not-so-fun in the sun. Being the fourth sequel in the series, it's not surprising this lacks the ingredients that made the first few films so funny. The script is a mess, the bad guys really corny and like something out of a second-rate Disney movie. Sure, it could be worse, but it's so obviously a product made just to cash in on its name. And you know it's a bad sign when a B-movie star like Steve Guttenberg declined to be in it. I'm gonna watch the last two as well, just to have seen them. But considering the state of this one, it'll be a miracle if I don't end up with any scars on my soul.
½
This was the worst Police Academy movie I've seen so far. Moving the setting of a series to Miami is usually a bad sign, I guess. Still it did have a couple of laughs, so I didn't rate it any lower.
Discussion Forum
Discuss Police Academy 5: Assignment Miami Beach on our Movie forum!
News & Features