Poor Cow
(1967)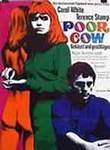 Poor Cow Trailers & Photos
Movie Info
Acclaimed British neo-realist filmmaker Ken Loach made his theatrical debut with this bleak kitchen-sink drama. Joy (Carol White) leads a life that makes her name seem like some sort of a cruel joke. Her husband Tom (John Bindon) is a second-rate burglar who shows neither her nor their infant child much affection. When Tom is jailed for theft, Joy is left on her own, until Tom's best friend Dave (Terence Stamp) invites her to stay with him. Dave is warm and caring in a way that Tom is not, and love begins to blossom between them. However, Dave also supports himself as a thief, and when he's arrested and put behind bars, Joy is left back where she started. Joy takes a job as a barmaid to support herself, and she is persuaded to pose nude for a photographer to bring in some extra money; she files for divorce from Tom and begins seeing other men. However, Tom wants to give their marriage another chance once he's released from prison, much to Joy's chagrin. Several clips with Terence Stamp were later used in The Limey (1999) to illustrate the earlier life of Stamp's character in that film. ~ Mark Deming, Rovi
more
Cast
News & Interviews for Poor Cow
Critic Reviews for Poor Cow
Audience Reviews for Poor Cow
Director Ken Loach's first feature is an insightful but somewhat shapeless portrait of a vivacious young woman (Carol White) struggling to raise a baby in a dingy English neighborhood. Within the opening minutes, her husband is sent to prison after a bungled robbery. She soon latches onto a second man (Terence Stamp) but, unfortunately, he too has been pressed into a life of crime. He is more sensitive to her needs but also is sentenced before long, which means Stamp fans may be frustrated with his lack of screen time. From there, our heroine takes a job in a rowdy pub, dabbles in cheesecake modeling and tries to fill her relationship void with casual lovers. There is no moral lesson here -- this is just how a woman on her own manages to stay afloat. The story fades out inconclusively.

Donovan provides a few tunes for the soundtrack (Stamp himself sings "Colours"), and various other pop songs are heard throughout -- almost as if a crew member's transistor radio is randomly playing in the background. The effect is a bit ragged, and further shaky elements include the girl's sporadic narration, an odd decision to close with a documentary-style interview and some awkward title cards that rarely add useful information. The lighting often seems too warm and pleasing for the story's gritty tone, but an initial childbirth scene and an overgenerous amount of toddler nudity add some controversy.

"Poor Cow" usually gets lumped with its era's "kitchen-sink" movement, but there are much better examples of the genre to seek out.
Very intriguing Loach film with young Terence Stamp. Probably its use of pop music was pretty innovative in its day. Austere portrait of working class girl, who doesn't have much of a future.
Discussion Forum
Discuss Poor Cow on our Movie forum!
News & Features