Poseidon
(2006)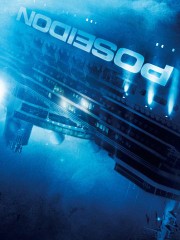 TOMATOMETER
AUDIENCE SCORE
Critic Consensus: This remake of The Poseidon Adventure delivers dazzling special effects. Unfortunately, it doesn't seem that any of the budget was left over to devote to the script.
Tickets & Showtimes
Poseidon Trailers & Photos
Movie Info
Set adrift in the vast waters of the North Atlantic for a luxury New Year's Eve party staged in the ship's magnificent ballroom, the massive ocean-liner Poseidon receives an unexpected jolt when a rogue, 100-foot wave rolls it completely upside down, forcing the surviving passengers to fight their way to safety in Das Boot director Wolfgang Petersen's waterlogged blockbuster. Trapped beneath the waterline and implored by the captain to remain in place until a rescue team arrives, the panicked survivors struggle to keep their cool as the water begins to rush in, infernos blaze all around, and a loss of electricity plunges the doomed vessel into total darkness. Seasoned gambler Dylan Johns (Josh Lucas) isn't willing to wage his life on the prompt arrival of help, though, and as he attempts to navigate the treacherous, inverted maze of death, he is flanked by desperate band of like-minded seafarers including eight-year-old Conor (Jimmy Bennett) and his mother, Maggie (Jacinda Barrett), reticent stowaway Elena (Mía Maestro), suicidal Richard (Richard Dreyfus), and concerned father Robert (Kurt Russell), whose missing daughter may still be somewhere onboard along with her frightened fiancé. With a little luck and a little help from onboard waiter Marco (Freddy Rodriguez), the desperate team may just live to see the morning after.
more
Cast
News & Interviews for Poseidon
Critic Reviews for Poseidon
Audience Reviews for Poseidon
½
Robert Ramsey: You know, there's nothing fair about who lives and dies. You gave Elena a chance. You gave everybody a chance. 

"Mayday"

Poseidon is one of those disaster movies that worries about visual effects over actual human interaction or feeling. Most of the movies that fill this genre are like Poseidon in that regard and that's where the problem lies in most of them. So visual effects and big action sequences must take over and propel the movie to watchable in order to find entertainment in it. Movies like 2012 and The Day After Tomorrow are examples of disaster movies that work despite not having a great human element involved. Poseidon's cool effects and big water scenes make the movie watchable, but nothing more.

A ship is flipped by a huge rouge wave. When the captain of the ship tells everyone to stay in lobby and promises them safety, a small group of passengers rebel and leave the group. They begin to make their way up the ship to the bottom of the ship, which is now the top. Along the way, they have to deal with fires, water, and narrow spaces. It basically winds up being close call after close call, and every once in awhile a character will drop off.

The cast isn't too bad here. Kurt Russell, Josh Lucas, Richard Dreyfus, and Emmy Rossum make for decent main characters. The supporting cast that is assembled around them isn't terrible either. The movie isn't really about acting though, it's about the visuals and the visuals don't disappoint. Where the movie disappoints is when the actors actually have to speak to one another and we have to listen to their dumbed down dialogue. 

Overall, I'm pretty much indifferent on this one. I don't necessarily like it nor do I dislike it. It's one of those movies where I just can't form a true opinion on it. I realize it's not a great movie, but I also won't blast it like just about every one else. I'm just going to put myself directly in the middle on this one.
Melvin White
Super Reviewer
½
Blueprinted nearly scene by scene from the 1972 original, this remake has more action and better effects as 34 years might enable. Similarly less time is spent on characterization (who cares about that crap anymore?), but the result is still claustrophobic thrills.
Poseidon Quotes
Richard Nelson: Hi, I'm Nelson.
Lucky Larry: What the hell did you do to all these people?
Dylan Johns: Do you miss being mayor?
Robert Ramsey: Do you ever win?
Lucky Larry: Hey, who's shooting at us?
Discussion Forum
Discuss Poseidon on our Movie forum!
News & Features