The Private Life of Sherlock Holmes
(1970)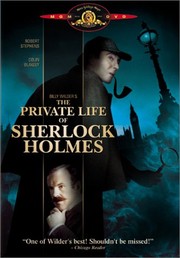 The Private Life of Sherlock Holmes Trailers & Photos
Movie Info
'Private Life' is both an elegiac evocation of late Victorian England and a boldly modern take on the dark side of the "real" Sherlock Holmes.
more
Cast
News & Interviews for The Private Life of Sherlock Holmes
Critic Reviews for The Private Life of Sherlock Holmes
Audience Reviews for The Private Life of Sherlock Holmes
½
Holmes: We all have occasional failures. Fortunately Dr. Watson never writes about mine. 

"My private life is my own affair."

The Private Life of Sherlock Holmes is a interesting and thoroughly entertaining mystery from the great Billy Wilder. The first half hour is about as much into the private life of Sherlock Holmes as you'll get. The title is a little misleading because this is still a standard Holmes picture. Wilder just added some confusion about Holmes sexuality and the idea that when Holmes is not busy on a case, he likes to indulge in cocaine. After that there is no real difference plot wise, to any other Sherlock Holmes movie, except this better than average.

Holmes is bored with no case to take his interest. Then one night a woman arrives at his doorstep. Apparently an attempt was just made on her life, and now she doesn't know much about herself. The next morning she remembers everything. She came to Holmes for him to help her find her husband. This mystery takes us to Scotland and involves a variety of weird things like the Loch Ness monster, midgets and canaries. 

The performance by Robert Stephens as Sherlock Holmes is spot on. He portrays the detective brilliantly. Then there's Colin Blakely who is an admirable Dr. Watson, and the iconic Christopher Lee as Sherlock's brother. The plot is pretty cool, with weird occurrences adding to the mystery of the case. 

The Private Life of Sherlock Holmes is fun throughout and sporadically funny. Wilder's witty touch is perfect for a Sherlock Holme's film. I was a little disappointed this didn't dive more into the personal life of Holme's, but as a straight detective story, it is a damn good one.
Melvin White
Super Reviewer
I've only seen a few of the older, black & white, more sinister Sherlock Holmes movies. I enjoyed the occasional laughs this story provided and how Wilder was unafraid to show some aspects of Sherlock Holmes that were not traditionally portrayed. In the special features on my DVD I learned that Wilder and Diamond intended the movie to be in four parts, four mysteries Watson had supposedly locked up and not revealed to the public during his life. The movie was too long so the original full length preface describing this had to be scrapped as well as two of the mysteries and a flashback segment. As the movie stands today, Clive Revill is a Russian ballerina's assistant who sends for Holmes and his services in the first part. The services required are not what you'd expect, but then this is a Billy Wilder movie and you shouldn't expect the sort of mysteries of the old days. The second larger part is closer to a traditional mystery and brings Genevieve as Ms. Valladon into the picture. She provides a good steady third leg to Stephens as Sherlock and Blakely as the Doctor for the majority of the film. Christopher Lee also appears as Sherlock's brother Mycroft who works for the government and adds ambivalence to whether Her Majesty's government may be involved in a cover up. The three main characters follow the clues to Scotland and a few castles around Loch Ness. The ending with Queen Victoria is satirical, but pretty silly. Still it is a fun movie with great production values recreating the time period!
Discussion Forum
Discuss The Private Life of Sherlock Holmes on our Movie forum!
News & Features