Private Lives
(1931)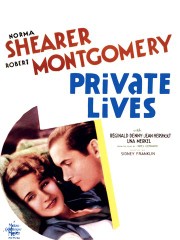 Private Lives Trailers & Photos
Movie Info
In this film, Amanda and Elyot, a witty, sophisticated married couple, divorce and marry other mates. Amanda chooses stuffy Victor, while Elyot's selection is the tiresome Sibyl. Coincidentally, both newlywed couples honeymoon at the same Swiss hotel -- in adjoining suites.
more
Watch it now
News & Interviews for Private Lives
Critic Reviews for Private Lives
Audience Reviews for Private Lives
James Higgins
Easily my favorite comedy from the 30's. I love Noel Coward and this play/film is one of his best imho. Gotta love Norma Shearer and her tantrums ! LOL
Vickie Buonagura
[img]http://classicmoviefavorites.com/shearer/shearer311.jpg[/img]

[i]Private Lives [/i]is among the very best of the pre-code comedies. It's based on the excellent Noel Coward play, and while it follows the story almost to the letter, the dialogue is clearly modified a bit for America audiences.

Norma Shearer has just married the serious Reginald Denny, and they've gone to a French Hotel for their honeymoon. Shearer's ex-husband, Robert Montgomery, has just married Una Merkel, and they're honeymooning in the same hotel. Right in the next room. Once they discover this, Shearer and Montgomery can't resist each other and quickly run away together to Shearer's chalet. But soon it becomes apparent why they divorced in the first place. They can't stop arguing.

The script, though modified, is filled with wit and charm. The arguments are funny, their love romantic. There's a whole scene on the couch which is indescribable. It's one of the most romantic scenes in classic film. Though it's set up very much like the play in terms of set and scene length, interesting camera work prevents it from feeling like a filmed play.

Shearer gives her best comedic performance. She doesn't try to make the character overly sympathetic. She's charming, but she's vain and arrogant, and it's hilarious. Montgomery is awesome against her. The perfect foil. He's suave and sophisticated, yet his scenes when he flies off the handle are very funny. Denny is reliable, as always in his role, but the shining star of the supporting cast is the always delightful Una Merkel. She's sweet and slightly pathetic. The scenes where she's wailing loudly would be annoying from most actresses. Merkel makes them some of the funniest scenes in the movie.

I want a DVD release of this, dammit. It's an example of a perfect film.

[b]Final Grade: [/b]A+
Katie Richardson
Private Lives Quotes
Amanda Chase Paynne: Extraordinary how potent cheap music is.
Elyot Chase: She was pretty and sleek,and her arms were long and slim and her legs were long and slim, and she danced like an angel. You dance very poorly, by the way.
Discussion Forum
Discuss Private Lives on our Movie forum!
News & Features