Professor Layton And The Eternal Diva (Reiton ky˘ju to eien no utahime)
(2009)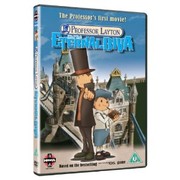 Want to See
Critic Consensus: No consensus yet.
Tickets & Showtimes
Professor Layton And The Eternal Diva (Reiton ky˘ju to eien no utahime) Trailers & Photos
Movie Info
Nintendo and Level 5's popular puzzle adventure game series makes the leap to the big screen in this animated adventure from director Masakazu Hashimoto. When Professor Layton's former student Janice Quatlane invites him to her upcoming performance at the famed Crown Petone Opera House, the renowned English gentleman and detective invites his loyal assistant Luke along for the trip. But a pleasure gives way to business when London is plagued by a series of mysterious kidnappings. Convinced that there's a tie between the recent disappearance of two young schoolgirls and some bizarre events unfolding at the opera house, the professor and his assistant prepare to solve a case that would leave even the famous Sherlock Holmes scratching his head. ~ Jason Buchanan, Rovi
more
News & Interviews for Professor Layton And The Eternal Diva (Reiton ky˘ju to eien no utahime)
Critic Reviews for Professor Layton And The Eternal Diva (Reiton ky˘ju to eien no utahime)
All Critics (1) | Fresh (1) | Rotten (0)
Audience Reviews for Professor Layton And The Eternal Diva (Reiton ky˘ju to eien no utahime)
Caesar Mendez
Super Reviewer
½
A Videogame movie? oh this can't end well... or does it!?

A known fact among gamers and film buffs. is that videogame movies are pretty much dead on arrival. For whatever reason good stories just can't be made out of them. Videogame developer Level-5 made this film based on their characters, can they give their own character justice or will it all be ruined like so many that have tried before.

The animation here is really cute and while not the most amazing, it's hard to watch without even the slightest smile. It's animated exactly like the cutscenes within the game, which will be very comforting for it's fans. As far as Japanese animated films go, it may not be in Miyazaki's standards but it will be nice to just look at an animated film from Japan that has a style different from the norm.

The film's score is very similar to the game which is a lot of fun to hear whether one is a fan or not. The only problem in this is what is not from the game will sound a bit boring and more forgettable. This film still uses a good amount of the game's music to move along though, which is more than most videogame films can say.


Leading the film is voice actor Christopher Robin Miller (who also voices the character in the game) as Professor Hershel Layton, an avid puzzle solver from London, who is so good he's often put in a situation where he comes off as a detective (though he claims he's not, he just is that good at solving puzzles); what's fun about the character is that he's never really fazed all that much, it's almost like his perfect(but not boring) almost like watching an animated MacGyver just a bit more fun for everyone. Sidekick Luke Triton voiced by Maria Darling (same for the games), is Layton's young "Apprentice number one" as Luke refers to himself as, learning how to be a gentleman while becoming a great puzzle solver, he is cheerful and provides relief without being a snarky kid who's to smart for the adults like most family (children) movies today try to do, it really makes him fun to watch as a sidekick. On the other end of assistants comes Emma Tate as Emmy Altava an adult heroine who provides a bit of competition for Luke; she goes off on her own early on to solve a case on kidnapped children, that later goes much deeper with the main plot. Emma Tate also voices Janice, a famed opera singer who requested Layton to assist her in an odd occurrence. The rest of the cast does a fine job, but to go more into them might ruin some of the film's surprises. The opening though contains few tidbits for the fans to enjoy as favorite characters from the games make small cameos including rival Don Paolo, Inspector Chelmey and Flora Reinhold.

Professor Layton has solved many cases, but when a deadly game with the prize of Eternal Life comes he must solve the case before it's all to late. The film provides a fun adventure feel, all while making the audience think about the challenges the characters come across with ( can you figure out whats the oldest thing you can see before they do? or would you have failed so early and meet certain doom) it provides a lot of interest in the mystery of it all. The final act of the film provides multiple plot twists in a single scene, it'd probably leave someone like M. Night dumbfounded, which unlike his most recent films this film has some good and smart twists. The adventure starts and never slows down, always making it fun to see how far these characters will go.

Say what you will for other videogame films but "Professor Layton And The Eternal Diva" is a must watch not only for gamers, not only for animation fans, not only for mystery fans, but everyone.
DOCTOR PRIME
Super Reviewer
Note: The English dub is the version viewed.

Movies adapted from video games have earned a bad name for themselves. Usually terrible films that even fans of the source material tend to rebuke, video game movies are generally something to be avoided. Still, there are exceptions, Professor Layton and the Eternal Diva, being one of them. While Professor Layton and the Eternal Diva isn't perfect as well as being heavily flawed, it's still an entertaining and satisfying film that goes above what is often expected of video game films.

In a condensed form, the plot follows brilliant detective Professor Layton and his young apprentice, Luke Triton as they find themselves, as well as a large crowd of people, trapped in an opera house and slowly being picked off one by one in something of a tragic game. By solving puzzles, Layton and Luke, as well as their friend Janice Quatlane, must survive these puzzles in hopes of apprehending the culprit responsible.

Japanese anime (or really any form of anime) has never been my particular cup of tea. And if you truly detest the genre, I recommend staying far away from this, as it's unlikely to change your mind. In fact, it may cement that opinion. However, keeping an open mind through the quirks and oddities one finds in anime, I found myself actually enjoying myself somewhat.

The film opens with a one minute intro that more or less explains that this films is based off of a popular video game series, among a few other things. This feels very much like a commercial, and it's hugely unnecessary. Thankfully, it's short.

The plot is surprisingly engaging. While it starts a little slow, it isn't too long before the ball gets rolling and in true 'And Then There Were None' style, groups of people and disposed of repeatedly. The film becomes more frenzied and more intriguing. At times, the film is surprisingly creepy.

At times, the film feels very much like a video game. And there are things the film does that would only work in a video game, and simply doesn't work in this film. Some things that don't work is the utter improbability of much of what's going on. For example, Layton at one point, builds a helicopter out of materials he finds in a shed and uses it to fly to a nearby island. This would be acceptable in a video game, but in a film, viewers are much more unlikely to suspend their belief in reality.

Some elements of the mystery seem hugely obvious, and some characters are far too oblivious of them for far too long. Also, those who have not played some of the Professor Layton games will not know several characters whom are in the film, but without proper introduction.

And despite being a mystery, there are many things left open ended and unexplained. While this may not bother some, others may feel disappointed.

Attempts at humor are made, but it's all painfully unfunny. Never did I laugh, but humor is not the primary focus, so this can be excused.

What cannot be excused (and this is the primary reason that I'm not giving this a higher score) is a tedious, dull, and improbable action sequence near the end. It lasts 20 minutes, and frankly, it was 20 minutes too long. This represented the lowest point of the film.

I may be saying a lot of negative things about this film, but I did enjoy it. The plot is intriguing, characters are interesting, but what got me the most, is the ending. An absolutely beautiful and poignant finish. I won't spoil the details here, but you'd be surprised at the emotional depth displayed here.

Voice acting is will make those unexposed to anime cringe. The fact is, it's all hugely exaggerated and often laughable. The more bearable of the voice talents are Christopher Robin Miller as Professor Layton, Emma Tate as Janice Quatlane, and Robbie Stevens as Oswald Whistler.

While the animation isn't stunning, it's serviceable. Mixing hand-drawn animation and CGI, the animation is pleasant, if far from eye-popping.

Perhaps the best aspect of the film (other than the beautiful ending) is the score, composed by Tomohito Nishiura and Tsuneyoshi Saito. Utterly charming and wonderfully inventive, the music is fun, unique, and quite breathtaking at times. While parts of the 20 minute action sequence at the end go overboard with the synthesizers (as this represents not only the low point in the film, but the low point in music), the score is surprisingly effective, and even stunning.

There's a masterpiece somewhere in Professor Layton and the Eternal Diva. Somewhere, there's a beautiful and perfect film trapped in it's heart. Unfortunately, only some the majesty this film tries to produce is executed, leaving a flawed and utterly improbable film in it's place. But for all I dislike about this film, Professor Layton and the Eternal Diva still provides a mostly entertaining story, with an ending that's better than it has any right to be.
Joshua "LF" Mitchell
Professor Layton And The Eternal Diva (Reiton ky˘ju to eien no utahime) Quotes
Discussion Forum
Discuss Professor Layton And The Eternal Diva (Reiton ky˘ju to eien no utahime) on our Movie forum!
News & Features