Protagonist
(2007)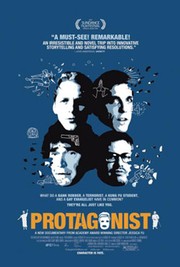 Protagonist Trailers & Photos
Movie Info
Academy Award-winning filmmaker Jessica Yu offers an unusual look at the simultaneous diversity and commonality of four very different men in this documentary. In Protagonist, Yu recalls the structural format of the ancient Greek playwright Euripides -- whose stories were often marked by human tragedy, the commentary of a chorus of independent observers, and the sudden and unexpected intervention of the divine -- as she chronicles the lives of a thief, a student of martial arts, a preacher who has renounced his past as a homosexual, and a political terrorist. Protagonist was screened in competition as part of the 2007 Sundance Film Festival.
more
News & Interviews for Protagonist
Critic Reviews for Protagonist
Audience Reviews for Protagonist
[font=Century Gothic]By taking a page out of Errol Morris' playbook, with the documentary "Protagonist," Jessica Yu has made a mildly successful and occasionally perplexing film(sorry, but I don't get the whole Greek puppets thing...) with four ordinary men, Mark Pierpont, Hans-Joachim Klein, Joe Loya and Mark Salzman testifying about troubled times in their lives.(Of the four, Klein is the most notorious of the four due to his involvement with terrorists in West Germany in the 1970's including the infamous Carlos the Jackal. For this reason, he is also not the most fortcoming, sounding a little naive in fact. Remember, if somebody ever hands you a loaded gun, playtime is over.) What she is after is an exploration of masculinity as all the men included here were missing something from their lives when they were younger, be it a parent's love or a cause, and were lured by the siren song of fanaticism.[/font]
This visually fasinating(with all the Greek myth tiltle animations) documentary really surprised me. Four men who come from extremely different background somehow share the same pattern of life, and with staged Greek drama, Jessica Yu used puppets to act out scenes which connect all the characters. It's hard to do a documentary with only narrations and couple achieval footage, but Yu really pulled it off with the puppets and some great music score, making the film extra diverse.
Discussion Forum
Discuss Protagonist on our Movie forum!
News & Features