Raise the Titanic
(1980)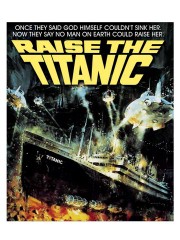 Movie Info
Based on the best-seller by author Clive Cussler, this ocean adventure starring Jason Robards follows a group of U.S. scientists on a historic mission to recover radioactive cargo from the sunken RMS Titanic. Meanwhile, as the scientists team with the U.S. Navy to raise the vessel in secret, a Russian salvage crew learns of their plan, and endeavors to reach the volatile cargo first. Richard Jordan, David Selby, Anne Archer, and Alec Guiness co-star.
more
Associated Film Distribution
Cast
News & Interviews for Raise the Titanic
Critic Reviews for Raise the Titanic
Audience Reviews for Raise the Titanic
This is on my top worst movie list; I almost walked out of the theatre for how dry and boring it was.
½
Based on the Clive Cussler best-selling novel, Raise the Titanic is an exciting Cold War thriller. While tracking down a shipment of a rare mineral with military potential, retired Navy captain Dirk Pitt discovers that it was lost in the sinking of the RMS Titanic in 1912, leading him to propose the impossible...Raise the Titanic. It's a fairly interesting story that's full of mystery and intrigue; especially given that this fictional account of Titanic's discover and raising was written before the real-life discovery in 1985. Additionally, the model work and set designs are rather impressive, as is the film's score. Raise the Titanic is a little contrived at times, but it's also a fun piece of pulp fiction.
Raise the Titanic Quotes
Dr. Gene Seagrave: What's so funny?
Dirk Pitt: Eh... I knew a girl once.
Dr. Gene Seagrave: I'll bet you did.
Dirk Pitt: Years later I ran into her again, she says 'What happened to you? I thought you were going to change the world.'
Dr. Gene Seagrave: What'd you say?
Dirk Pitt: I said they had me outnumbered.
Discussion Forum
Discuss Raise the Titanic on our Movie forum!
News & Features